The Most Portland Thing Ever: Urban Breastfeeding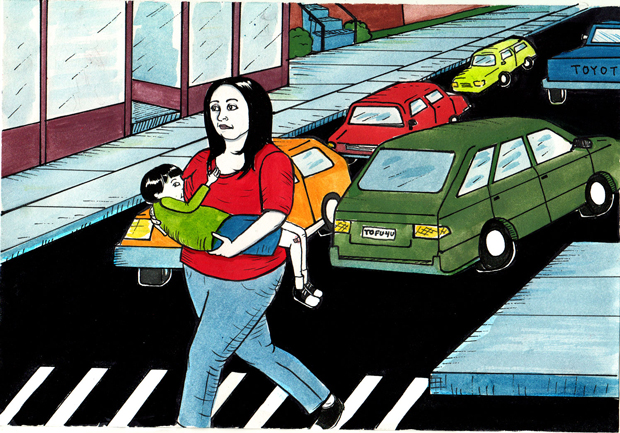 Posted by Claire Evans on
Have we already come to the final installment of The Most Portland Thing Ever? Yes, but hasn't it been so much fun? I wish we could have assigned our trusty illustrator Nicole Georges to tackle the hundreds of submissions you guys left in our comment fields, but no single human being can be in charge of that much sheer Portlandity. To recap: a coffee shop pony, a naked park yogi, forbidden duck feeding, midnight medieval role-play, and now…urban breastfeeding a grown child. Of course.
Commenter Reliquary Design submitted two great stories—the other one was about unicycling in a blizzard, in case you were curious—but it's this tale of multitasking on the streets of Portland that tickled our illustrator's fancy.
The original comment:
Seeing a woman crossing NW 23rd who was carrying a child – who looked to be about 4 – perpendicular across her body. Upon closer inspection, it was clear that she was also nursing said 4 year old, while crossing a busy intersection.
Nicole Georges is an illustrator, educator, and graphic novelist based in Portland, Oregon. Her self-published autobiographical zine, Invincible Summer, has been anthologized in two volumes. She teaches self publishing and autobiographical comic workshops to children and seniors, and her first graphic novel, Calling Dr. Laura, will be released this year with Houghton Mifflin. Also, she does pet portraits.