"The Most Portland Thing Ever" Part Two!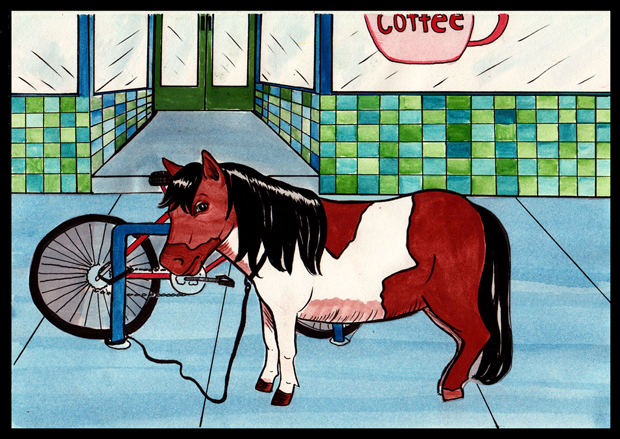 Posted by Claire Evans on
Perhaps you were delighted by yesterday's charming illustration of a Portland woman being banished from beneath the Burnside bridge by two drunk LARPers in full medieval regalia, but thought it was missing the folksy charm of a funny animal story? We've got you covered. In our second installment of the "Most Portland Thing Ever," Facebook commenter Lindsey Klein's submission of "watching someone walk a pony and tie it up outside a coffee shop in north Portland" gets the Nicole Georges treatment. See above: Awww…
Check back tomorrow for The Most Portland Thing Ever, part three. Hint: it involves nude yoga.
Nicole Georges is an illustrator, educator, and graphic novelist based in Portland, Oregon. Her self-published autobiographical zine, Invincible Summer, has been anthologized in two volumes. She teaches self publishing and autobiographical comic workshops to children and seniors, and her first graphic novel will be released this year with Houghton Mifflin. Also, she does pet portraits.