The Most Portland Thing Ever: Nude Yoga Edition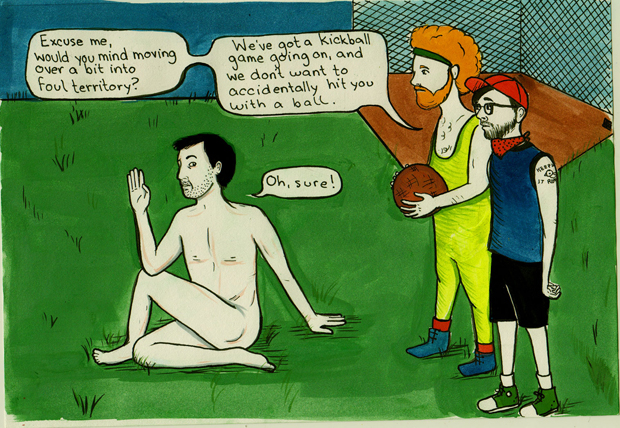 Posted by Claire Evans on
For our third installment of "The Most Portland Thing Ever," as suggested by you guys, our commenters, our illustrator Nicole tackles commenter Mainefish's so-Portland-it's-almost-unreasonable story of nude yoga, adult kickball, and superfluous politeness:
I was on my way through Col. Summers Park to play a little basketball on a nice summer day. It was packed to the brim with your typical mix of tennis players, slack-liners, hula-hoopers, croquet games, etc. As I rounded the corner by the ball field, I paused to enjoy a little bit of the adult kick-ball league game in progress. That's when I noticed… smack dab in right field, about 10 feet in from the foul ball line, was a completely naked man doing yoga. Keep in mind, the park is packed. There are men, women, kids, dogs, etc. running all over the place. This guy decided it was the perfect time and place to strip off his clothes and get his downward dog on. As a stood there thinking, "wow, that's Portland for you!" I see a large man from one of the kickball teams jogging towards the yoga dude. The east coast me started thinking, "Uh oh… this could get ugly". I temporarily forgot where I was… because the following could only happen in the lovely Rose City. Kickball guy approaches Yoga dude with little more than an amused grin on his face. He says, "Excuse me, would you mind just moving over a bit into foul territory? We've got a kickball game going on and we don't want to accidentally hit you with the ball." Yoga dude obliged, and both resumed their respective activities.
In a word: WHAT!
Again, Nicole Georges is an illustrator, educator, and graphic novelist based in Portland, Oregon. Her self-published autobiographical zine, Invincible Summer, has been anthologized in two volumes. She teaches self publishing and autobiographical comic workshops to children and seniors, and her first graphic novel will be released this year with Houghton Mifflin. Also, she does pet portraits.