Q&A: Jason Simms of English, baby!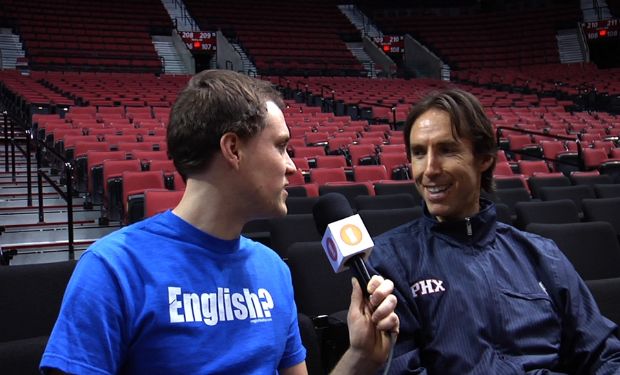 Posted by mpsinger on
It's often said that English is the hardest language to learn. A classroom setting can only teach so much; Portland-based instructional Web site English, baby! goes beyond the typical curriculum, teaching non-native speakers the way Americans really converse. Among other methods, the site employs celebrities — particularly NBA players, but also musicians like Sheryl Crow and Bone Thugs-n-Harmony — for brief YouTube lessons explaining various slang terms. According to content manager Jason Simms, the site "fills in the gaps left by traditional English courses." Heck, the videos are so entertaining even native speakers will get a kick out of them. And maybe learn something, too.
Portlandia: How does English, baby! differ from other, more traditional programs aimed at teaching people English?
Jason Simms: English, baby! builds on what you get in the classroom. We introduce students to the latest slang and other terms they will not find in a book or on another English education website. We post a new English lesson every day, and they are all built around authentic conversation, so that students can hear how Americans really talk. We provide a supportive environment for students to practice their English skills while talking about music, sports or other topics that interest them.
How did it get started?
Co-founder and CEO John Hayden was teaching English in Japan when he discovered that his students loved to learn about slang and had a hard time achieving linguistic and cultural fluency through traditional courses and books alone. He found they were particularly perplexed by why people liked to add the word for a small child to the end of a sentence. Hence, the name English, baby! is a lesson unto itself.
In 2009, we introduced English lessons starring celebrities. Basically, the idea was that we could record a conversation between our actors talking about basketball slang, or we could go out and get NBA players to teach it. The latter seemed more qualified.
What's the response been like from people using the site?
We get a lot of gratitude, actually. People seem to appreciate that we are leveling with them. We give students a break from formal language education and help them learn the kind of stuff they would learn from traveling abroad or having an American friend.
Where are most of the users from?
English, baby! has members in every country in the world. The biggest market for us is China, with about a quarter of our 1.6 million members.
Your YouTube videos feature a lot of NBA players discussing basketball slang. Why use NBA players?
The NBA is the most global American sport. The Chinese TV audience for the NBA is comparable to the league's American audience. Plus, we're based in Portland, where basketball is the only major sport. (Soccer is, of course, really popular here, too, and we have featured a lot of soccer players, but for the most part MLS players aren't as famous abroad as NBA stars.) During the NBA season, we have a steady flow of teams coming through, and many of those teams have players who have shoe contracts in China, do charity work there, or tour China in the summers with promotional events. We offer them an opportunity to connect with their fans overseas while they are in the US playing games.
What's been your biggest celebrity coup so far? Who was purely the most fun to interview?

Dwight Howard and Steve Nash are our most recent guest English teachers and guys we are thrilled to have, since they are both total performers and actively cultivate fan bases in China. During the 2010 Vancouver Olympics, we interviewed gold medal figure skaters Zhao Hongbo and Shen Xue, which was awesome because everyone in the world saw them win just a few days before. They even demonstrated a "lift" for us right there on the sidewalk in Vancouver.
Girl Talk was one where I had a lot of fun. He was really relaxed and spent some time with us. He took us up on the stage to do the interview in front of his light show. But the best shoot for me would have to be Steve Nash and Grant Hill, who we did back to back at the same practice last time the Suns were in town. They were really good at teaching English (probably rivaled only by Shane Battier), and something about them just left me buzzing for days.