Portland's Five Thingiest Bands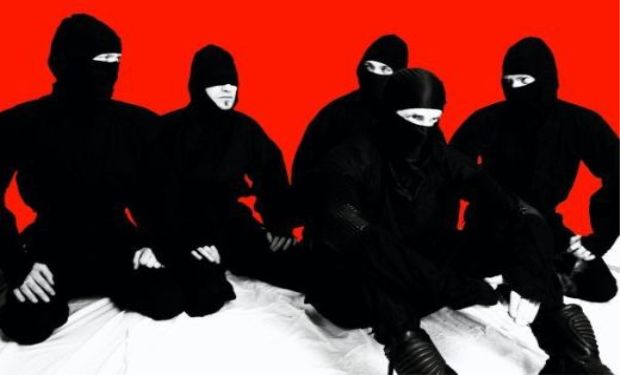 Posted by mpsinger on
In a city where bands should be considered on the census, for musicians, simply writing good songs isn't enough. You need to have a Thing. Whether it's playing toy instruments or making beats from the sound of crying babies or recruiting your cat as a full-fledged member (foreshadowing!), an extra level of ingenuity is required for bands in Portland to rise above the competition. As you'll see below, some band's Things are better than others.
MarchFourth Marching Band
Members: Ryan Moore; Jenny Pancake; Richard Cawley; Dan Stauffer; Alex Yore; Aspen Walker; Dan Herrick; Keith Vidos; Ashley Ward; Andy Sterling; Michael Kennett; Heather McGarry; Topher McGarry; Jason Wells; Katie Presley; Joel Ricci; Daniel Lamb; Chris Long; Taylor Aglipay; Andy Shapiro; Michelle Christiansen; Luke Solman; Robin Jackson; Domonic Britton; Jenny Johnson; Matt Moor; Russ Liquid; BennyMo; Ethan Chessin; Eric Miller; Lesilie Kernochan; Katie Colgan; John Avril; Sid Simpatico; Aaron Lyon; Jeremiah Guske; Amy Hotfield; Scarlett Rose; Faith Jennings; Nayana Jennings; Jen Forti; LaTisha Strickland; Nathan Wallway; Aaron Levin; Alex; Eric Quist; StarChadStar; Kevee Balmer; Michael Taluc; Marnee Benson.
Sounds Like: Gogol Bordello's Traveling Circus.
Their Thing: Fusing a funky, New Orleans-style brass band with a whole host of other sounds, then welding it to a Cirque du Soleil-like spectacle, complete with dancers and stilt-walkers.
Thing Score: 4 (out of 5). Making a scene will always get you noticed in this town, and M4 can make a scene like no other.
---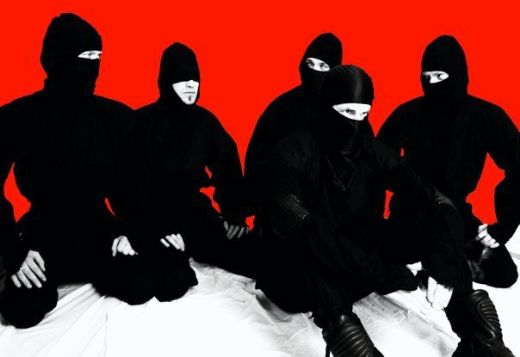 Ninja
Members: Throat Rot; Ysan; Christo Bas; Roku; Explorer.
Sounds Like: Heavy, technically proficient, larynx-burning metal.
Their Thing: Dressing like ninjas.
Thing Rating: 3. While Ninja goes all-in with the theme—concealing their identity, creating a whole origin myth—it's hard to imagine true ninjas playing something so loud, given their stealth and ability is drawn from having zen-like calm. Real ninjas are probably into more loungey, chill-out, downtempo type stuff.
---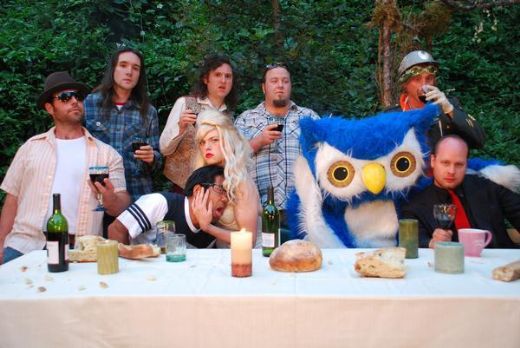 ;
(Photo by Derek Dahms)
DRATS!!!
Members: Alex Gall; Yoon; Q; Maddog; Chairman; Chad Deitchley.
Sounds Like: Something akin to an Oingo Boingo-Dead Kennedys supergroup covering the Mothers of Invention.
Their Thing: In 2006, the band released "Welcome to New Granada," a rock opera based on the film "Over the Edge."
Thing Rating: 2. DRATS!!! has established itself as one of Portland's zaniest institutions, so nothing it does could be considered a true Thing, no matter how off-the-wall. Insanity is just its style. Now, if it put out a concept album about "Over the Top," then we can talk about that rating.
---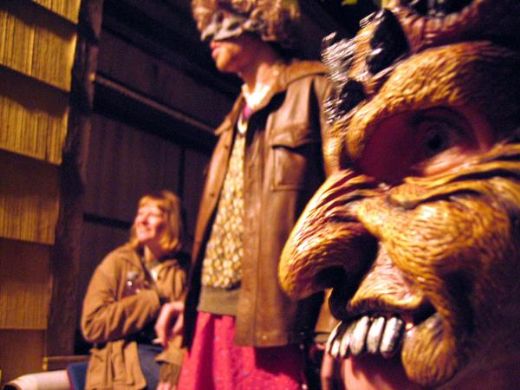 mARMITs
Members: Um…not available?
Sounds Like: I'll pass this over to my friend and colleague, AP Kryza, who wrote of the band a couple years ago, "Did Frank Zappa accidentally eat the brown acid and have an Eraserhead baby? If not, how the hell did Marmits happen?"
Their Thing: Masks and costumes apparently purchased from a Troma Studios garage sale.
Thing Rating: 4. Really, when you make music as frighteningly obtuse and purposely polarizing as mARMITs, you need a good Thing to have any audience at all. Looking like an acid-fried Slipknot and talking like creatures from an '80s Jim Henson movie is a good Thing.
---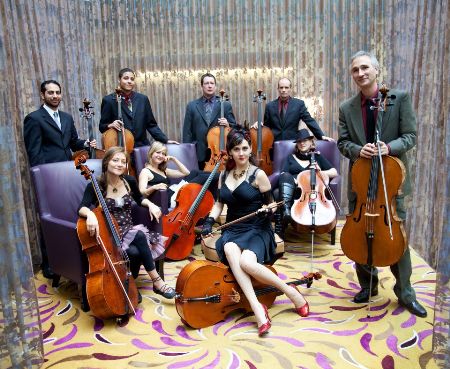 (Photo by Tarina Westlund)
Portland Cello Project
Members: Justin Kagan; Skip Von Kuske; Gideon Freudmann; Anna Fritz; Allegra M; Sonja Myklebust; Galen Cohen; Kevin Jackson; Douglas Jenkins; Ashia Grzesik; Samantha Kushnick; Robert Brooks; Brian Bruner; Emma Wood; Collin Oldham; Melissa Bach; Sarah Young; John Whaley; Jen Harrison; Teagen Andrews; Jourdan Paul; Jill Coykendall; Leander Star; Elise Blatchford; Matt Berger; John Vecchiarrelli; Rachel Blumberg.
Sounds Like: Your favorite songs, made safe for your grandma.
Their Thing: Adapting everyone from Britney Spears to Kanye West to Pantera to cello.
Thing Rating: 5. If you could see how crazy everyone around here gets whenever the PCP cello-izes a new hip-hop or pop hit (which is a lot), you'd understand why their Thing is the best Thing going in Portland.