Interview: Eleanor Friedberger joins "Portlandia the Tour"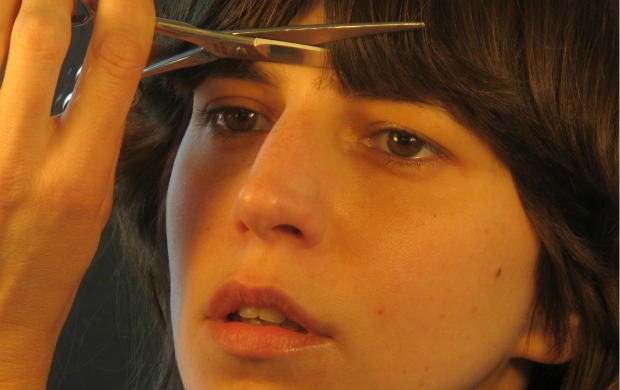 Posted by Melissa Locker on
Due to an overwhelming response (read: sold out in five minutes) and popular demand, Portlandia the Tour is back on the road and heading to six new cities. That's right, Fred Armisen (Saturday Night Live) and Carrie Brownstein (Wild Flag, Sleater-Kinney) from IFC's hit original comedy Portlandia are bringing their live show to Atlanta, Boston, Washington D.C., Nashville, Durham, NC, and Philadelphia. This time, though they are bringing some friends. In addition to their awesome backing band featuring Rebecca Cole of Wild Flag and Michael Lerner of Telekinesis, Fred and Carrie invited Eleanor Friedberger on the road with them. Eleanor got to know Fred and Carrie when she was in the band Fiery Furnaces with her brother, now she has branched out into a burgeoning solo career where she opened for Wild Flag on their October tour.
Before jumping on the Portlandia tour bus, Eleanor chatted with us for a few minutes about the tour, her road trip playlist, and what's the matter with Nashville.
Hi Eleanor, you just got back from your West Coast tour. How was it?
It was great. I've been doing headlining shows with my band, which was fun. I have toured a lot in the past, but I've been doing a lot opening for others. So it was nice to be the headliner.
The Portlandia Tour starts Sunday and the first stop in Philadelphia, right?
Yes, I'm meeting Fred and Carrie on the West Side Highway.
You're just going to flag them down?
Yes, three lost souls who will find each other on the West Side Highway.
That sounds like an excellent screenplay idea.
I'm excited to spend time with them. I've known Fred and Carrie for a while now, but I've always known them separately. I think I've only spent time with them together once. So I am looking forward to the antics on the bus.
You get a whole bus?
Yes, but it's not just us. There's a whole band, too. Along with me there's Rebecca from Wild Flag and Michael Lerner from Telekineses. There will be a full band playing. And I get to sing a few songs. Maybe I will get to tell a few jokes, too. Mostly the G-rated ones I have up my sleeves. Fred and Carrie get to do the adult comedy.
This tour is taking you from Philadelphia to Boston and then down South.
Yes, we're hitting six cities including Boston and DC and Atlanta and Nashville. It's just a quick jaunt. I wish it was longer. I have a feeling it will be a lot of fun. Then again maybe a week is the perfect length. We can end on a high and it will leave us wanting more.
You will be driving from city to city, date to date. That's a lot of road time.
Yes, but we don't have to drive the bus. We will just be sleeping or playing video games in the back.
You don't have to drive the bus?! That's like cheating on a road trip.
Ha ha ha. No! We don't have to drive. But I do have a friend who sat up with the driver and he asked if she had ever driven a bus before. It's probably a good thing to know how to do. But we'll just be in the back playing video games and reading magazines.
Do you play video games?
No, but I think Fred does.
I think he plays Grand Theft Auto. What are your favorite places to eat on the road? You have to go to Waffle House if you're in the south, right?
I hope it doesn't come to that. I try to be a little healthier than that. I am excited that we are going to Durham. Merge, the label that I'm on and the one that Carrie's band Wild Flag is on is there. And the owner Mac, his wife owns a restaurant called Lantern and it is incredible. I hope we get to eat there. Otherwise it's just Whole Foods.
What else are you looking forward to on the tour?
Meeting new people. Stretching out from what I normally do. I've been in a band with my brother for ten years, so I'm really looking forward to playing with new people. Especially because this Portlandia show is something between a rock show, a comedy show and a TV promotional tour. It's a mishmash that will hopefully appeal to a broader audience. I like the fact that the boundaries are blurred between TV and music and playing live.
If you had to put three songs on a road trip mix tape what would they be?
"Do You Wanna Dance" by the Ramones, because I covered that with Wild Flag while I was on tour with them. I would put "Magic Bus" by The Who and "Journey" by Duncan Brown.
Do you know people in every city you are visiting on the tour?
Well, there are definitely going to be some familiar faces, but it's not a social visit, this is work! I've been to all these cities, except Nashville. And I'm going back to all of them on tour, except Nashville.
What's wrong with Nashville?
Hahaha nothing it just keeps not being where I end up. I'm heading out on my own headlining tour in April and I hope that some of the people I meet on the Portlandia Tour will come out and see me again.
Here's Eleanor's track "Heaven," which rumor has it is Fred's and Carrie's favorite:
And here are Eleanor and Carrie performing together with Wild Flag:
Want the latest news from Portlandia? Like us on Facebook and follow us on @IFCportlandia and use the hashtag #Portlandia.
"Portlandia" airs on IFC on Fridays at 10/9c