New Unknown Mortal Orchestra Video: "Thought Ballune"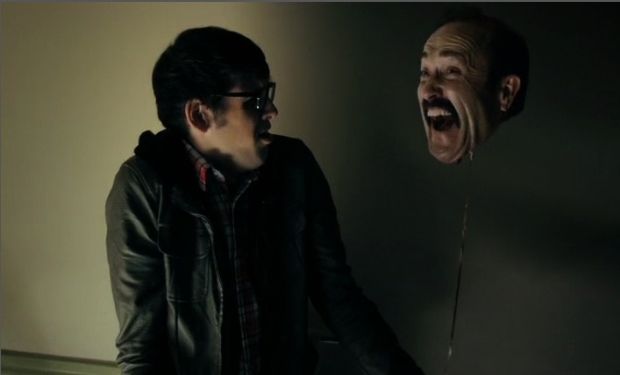 Posted by mpsinger on
Portland-based frayed-funk band Unknown Mortal Orchestra knows how to party. Or, at least, directors Jordan Blady and Ryan Knowles know what a typical Portland house party looks like. In this new clip for "Thought Ballune," a slinkin'-and-slidin' standout from the group's excellent 2011 self-titled debut, a dude who looks like your average PDX record store clerk goes to a birthday bash at his girlfriend's house. All the guests have the kind of faces David Lynch probably sees in his dreams, but that doesn't deter him. They eat cupcakes, dance for a bit, then everyone's head turns into a literal thought balloon, detaching and floating above their still-standing bodies.
Yup, just like your typical Portland house party.
UMO – Thought Ballune from Jordan Blady on Vimeo.
Sound like a band you'd like to party with? If so, here are their upcoming tour dates:
2/24 San Francisco CA @ Clift Hotel
2/25 Los Angeles CA @ Echoplex *
2/26 Santa Monica CA @ The Central
2/27 San Luis Obispo CA @ SLO Brew
2/28 Visalia CA @ Cellar Door
3/1 Santa Cruz CA @ Coconut Grove Ballroom #
3/2 San Diego @ CA Birch North Park Theatre #
3/4 Vail CO @ Snowball Music Festival
3/5 Albuquerque NM @ Launchpad #
3/7 San Antonio TX @ White Rabbit #
3/8 Austin TX @ La Zona Rosa #
3/9 Dallas TX @ Granada Theatre #
3/12 New Orleans LA @ One Eyed Jack's #
3/13 Houston TX @ Fitzgerald's #
3/14 Austin TX @ Red 7 / Force Field PR / Terrorbird SXSW Day Party
3/16 Denver CO @ Gothic Theatre #
3/17 Salt Lake City UT @ In The Venue #
3/18 Reno NV @ Cargo #

* = w/ White Arrows
# = w/ Girls