Scenes from School of Rock's Best of Portland Concert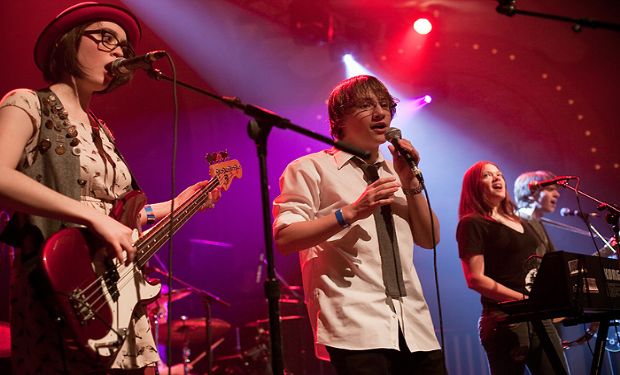 Posted by mpsinger on
When it comes to music, Portland starts 'em young. In a city with one of the best music scenes in the country, there's no need to force-feed our youth brainless kiddy music. Why listen to Kidz Bop when Red Fang is playing right down the street?
School of Rock certainly agrees. Last Friday at the Crystal Ballroom, student musicians ages 7-18 teamed up with some of Portland's best bands — including the Thermals, Blitzen Trapper, and YACHT, featuring the "Portlandia" blog's very own Claire Evans — for a night celebrating the vibrancy of Stumptown rock culture. The concert benefited the School of Rock scholarship program Portland Rock With Us as well as PDX Pop Now!, the annual all-local, all-ages, free music festival (and one of the city's best yearly events).
Ace photographer Jason Quigley photographed the event, and from the photos below it's hard to tell who's more stoked: The bands or the kids. For all of Jason's photos from the concert, visit his Web site here.
Backstage with Portugal. The Man
---
Dandy Warhols
---
Radiation City
---
Menomena
---
The Thermals
---
Laura Veirs
---
Blitzen Trapper
---
YACHT
---
Typhoon
---
RAWK!