Chat with Fred and Carrie during "Portlandia" premiere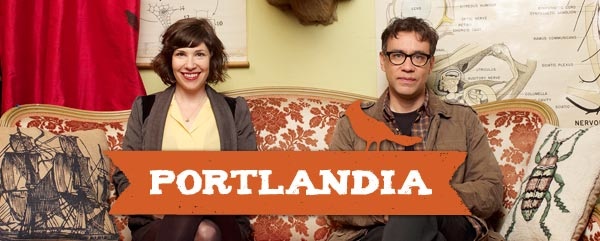 Posted by Melissa Locker on
As you are well aware, "Portlandia" returns to IFC this Friday, January 6th at 10pm ET/PT. What you didn't know is that when the show premieres, you can live chat with the show's stars and creators Fred Armisen and Carrie Brownstein. Ladies and gentlemen, we live in the future!
How will this trip to the future happen? This Friday, IFC is launching a live, dual-screen experience, IFC Sync, in conjunction with the second season premiere of our hit comedy series, "Portlandia." Fred and Carrie will be online to chat with fans watching the show, share their experiences and stories from the making of "Portlandia," and answering questions, throughout Friday's debut.
Fans can access IFC Sync via their Facebook login and start chatting with Fred and Carrie. You can also check out the characters page meet the new and unique personalities that populate the world of Portlandia (Lance! Toni! Bryce!).
Fans can also earn points by participating in live chats and answering trivia questions that are time-
coded to scenes within each new episode every Friday night at 10 p.m., ET/PT. Points can also be
earned by completing games and creating a Portlandia avatar and posting the results on Facebook,
both part of our super awesome and time wasting Portlandia Activity Book. As participants earn more points, they will be entered into a lottery to win cool prizes, including limited-edition Portlandia posters, DVD sets of season one and show-themed lunch bags. Virtual badges can also be earned by achieving specific point levels. There will also be a Facebook-based Leaderboard which tallies users' points and ranks them among all players so we know who are the winners and the losers. Don't worry when you're in Portlandia, you're all winners.
IFC Sync is an online interactive companion that engages users in a conversation around what's airing on the network in real time, and allows users to chat with show personalities, view video clips, answer show-specific trivia questions, and earn points to win real and virtual prizes. IFC Sync will be enabled during each of the ten episodes making up Portlandia's second season, with future conversations hosted by an IFC moderator.
Want the latest news from the land of Portlandia? Like us on Facebook and follow us on @IFCportlandia and use the hashtag #Portlandia.
See you in the future on Friday at 10/9c!