"Portlandia": The Return of Kyle MacLachlan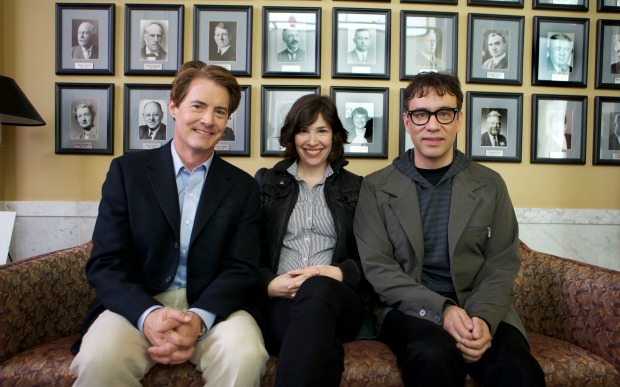 Posted by Melissa Locker on
This Friday at 10/9c, everyone's favorite openly reggae mayor returns to "Portlandia." That's right, Kyle MacLachlan is back and he has a job for Fred Armisen's and Carrie Brownstein's alter egos, who helpfully also go by the names Fred and Carrie, but are very different from the real Fred and Carrie. You got that? Good. So on Friday's brand new episode of "Portlandia," the Mayor of Portland (Kyle MacLachlan) tasks Fred and Carrie to redesign the Portland Police Department's uniforms and along with their clothes, their image. Sounds like a reasonable request, right?
We are very excited for Kyle to return to the show, but he isn't the only special guest star this episode. Annie Clark a.k.a. singer songwriter St. Vincent will also be appearing. Fans of Fred and Carrie's early sketch comedy work in Thunderant will recognize Annie from her performance in a feminist bookstore that looks strangely familiar. Watch this clip from Thunderant, but whatever you do, don't point:
Want the latest news from "Portlandia"? Like us on Facebook and follow us on @IFCportlandia and use the hashtag #Portlandia.
"Portlandia" airs on IFC on Fridays at 10/9c