"Mixology" Revisited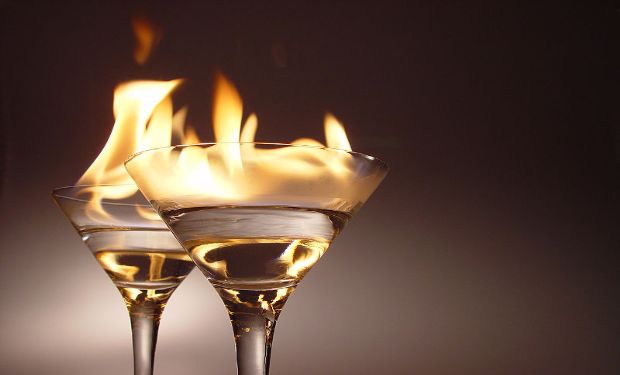 Posted by mpsinger on
On last week's "Portlandia," we learned just how far Portlanders will travel for a bizarrely obscure cocktail—all the way to the badlands of Los Angeles. Luckily, most of us don't have to go much further than up the street (or, y'know, to the Pearl) to find a mixed drink you never knew existed because you have no idea how to even pronounce what's in it. Here, bartenders from five of the city's best cocktail bars offer some of their most arcane recipes for your imbibing pleasure. Getting hammered has never been so…abstruse!
Beaker and Flask
720 SE Sandy Blvd., (503) 235-8180
From owner Kevin Ludwig:
Zanahorita
2 oz reposado tequila
3/4 oz lime juice
3/4 oz triple sec
1 oz fresh carrot juice
1/2 oz simple syrup
pinch of cumin
Shake and strain over ice in a salted rim glass. Garnish with a dusting of cumin.
Sal's Minion
2.5 oz good, aged rum
3/4 oz pineapple gomme
Pour the above over four large coconut water ice cubes and stir.
Grounded for Life
1.5 oz Mazama Pepper Vodka
3/4 oz triple sec
3/4 oz fresh lime
3/4 oz simple syrup
1 oz fresh celery juice
Shake and strain into a salted rim glass.
---
Gruner
527 SW 12 Ave., (503) 241-7163
From bartender Dave Shenaut:
Rest for the Wicked
1 oz Zirbenz Stone Pine Liqueur
3/4 oz Krogstad Aquavit (It's local!)
3/4 oz lemon juice
3/4 oz 2:1 clover honey syrup
3/4 egg whites
Combine. Shake without ice, then add ice and shake again. Fine strain into a chilled cocktail glass, then with an eye-dropper drop dots of creme de violette and etch out little hearts with a toothpick.
---
Secret Society
116 NE Russell St., (503) 493-3600
From bartender Michael Sellers:
The Orchard
2 oz applejack
1/2 oz lillet blanc
1/2 oz cynar
3/4 oz cranberry juice
3 dashes of orange bitters served up
Applejack is pretty cool because you don't see it pop up in too many cocktails these days. It is from one of the oldest distilleries in America; I believe it dates back to the 1750s. It is kind of a cross between calvados and grain whiskey. The other kind of obscure liquor in this is cynar, which is an Italian bitter liquor made from artichoke hearts. You put all these things together and you get a kind of woody, apple-like, complex, boozy glass of goodness.
---
Teardrop Cocktail Lounge
1015 NW Everett St., (503) 445-8109
From bartender Daniel Shoemaker:
African Swallow
Martin Miller's Westbourne Strength gin
Homemade blood orange shrub
Homemade Kina Lillet
Elixir Vegetale
Blood orange shrub: A hybrid between a colonial shrub and the more modern Creole Shrubb (produced by an Agricole Rhum family). Fresh blood orange juice and zest, balsamic vinegar reduced with sugar and spices (licorice root, sarsaparilla root, marshmallow root, Szechuan peppercorns, green cardamom), macerated with high-proof rum, and finally barrel-aged in new French oak for nine months.
Kina Lillet: The aperitif changed its recipe in the early '80s, removing some of the bittering agents and making it lighter and more bright orange. This is our house approximation of the original formula.
Elixir Vegetale: From the same monks who make green & yellow chartreuse, this is a much more concentrated, higher-proof version of the same.
---

Whiskey Soda Lounge
3131 SE Division St., (503) 232-0102
From operations manager Matthew Adams:
Gin Apple Rickey
1 oz apple drinking vinegar
1.5 oz of gin
In a tall glass, pour the drinking vinegar and gin over ice. Fill with soda water, squeeze a lemon wedge over the top and garnish with an amarena cherry.