Keep Portland Woolly: The 2012 West Coast Beard and Mustache Championships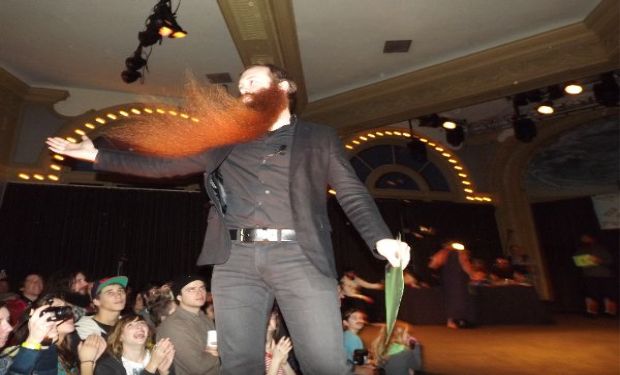 Posted by mpsinger on
Yes, I know this is the blog for "Portlandia," not "Whisker Wars." What's more Portlandian than a big ol' bushy beard, though? The only thing that comes closest to screaming "I'm from Portland" more is a ridiculous mustache.
It's no surprise, then, that the Crystal Ballroom would be absolutely packed at 3 p.m. on a Saturday for the 2012 West Coast Beard and Mustache Championships. Over 100 fiercely hirsute men and, yes, women from Portland and elsewhere (Austin represented particularly hard), along with an audience of hundreds more face-fuzz fanatics, gathered inside the elegant concert hall on January 21 to determine who is truly the hairiest of them all. Hosted by the Stumptown Stash and Beard Collective, the competition awarded prizes — specifically, plaques adorned with beaver skulls (fake beaver skulls, host Justin Cate assured the crowd) — in a dozen categories, including Best Natural Mustache, Best Chops, Best Freestyle Beard and, for the ladies, Best "Stashy Stachette" and Best "Bearded Beauty."
As you'll see in the pics below, presentation was key, but for the most part, the judges — Portland luminaries Brian Adrian Koch of Blitzen Trapper, Voodoo Doughnut's Tres Shannon, "entertainer" Rocket Ship and man about town/"Portlandia" guest star Jedediah Aaker — kept it all about the purity and ingenuity of the 'stache and/or beard itself.
Host Justin Cate, president of the Stumptown Stash and Beard Collective. When not emceeing, he competes in the Best Beard Over 1 Foot category.
---
The Judges: Rocket Ship, Brian Adrian Koch, Tres Shannon, Jedediah Aaker, and the Severed Head of Wham!-Era George Micheal.


---
The competitors in Best Beard Under 1 Foot.
---
The crowd at the Crystal Ballroom. What do you call facial hair groupies? Whiskerites? Stache-a-maniacs? Furries? Definitely not furries.
---
Auto-stache (shaped like a wrench, BTW), Steampunk-stache, Zombie-stache.
---
Make Love, Not War! Grow Beards, Not Germs for Biological Weapons! Eh, doesn't have the same ring to it.


---
Jack Passion, a cast member from the first season of "Whisker Wars" and the "Muhammad Ali of bearding."
---
There's a staaaaaarfiiiiiish/Waiting in my beard!
---
Octo-Beard!
---
In competitive mustaching, size matters…even for the women.
---
Post-Apocalypse Beard, complete with feral child.
---
Ladies and gentlemen, Sam Elliott!
---
Ladies and gentlemen, the Lorax!
---
Ladies and gentlemen, Stromboli from "Pinnochio"!
---
Is it getting hairy in here, or is it just me?
---
The happiest man in Beardtown.
---

Cowboy-stache.
---
After the award ceremony was a ceremony of a different kind, as Steve Scarpa and Savannah Flansburg tied the knot in front of a few hundred of their furriest friends.
(Photos by Matthew Singer)