One Quick Question for an Ex-Portlander: Ed Forman, host of The Ed Forman Show with Me! Ed Forman!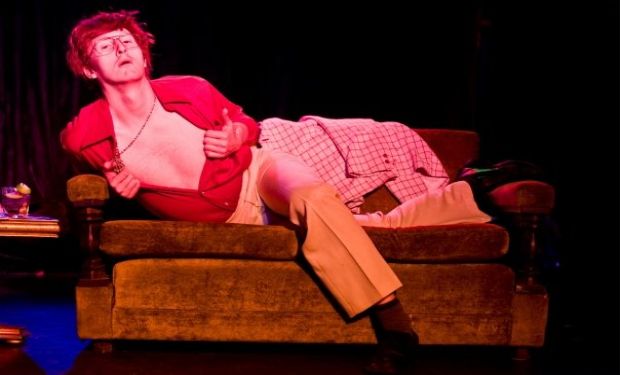 Posted by mpsinger on
Described by some in the local media as "Stephen Colbert as a libidinous sociopath," Ed Forman is the creation of Portland-born actor-comedian Aaron Ross. A show-biz icon and seriously unqualified self-help guru (a sample of his book titles: "I Will Make You Better, 'Cause I'm Better Than You!"; "Poop or You'll Die"; "Foreign People are Hilarious" — none available on Amazon) with the mouth of a megalomaniacal sailor and the hair of a schizophrenic Dick Cavett, Forman hosted his own variety show, "The Ed Forman Show with Me! Ed Forman!", at downtown rock club Dante's for four years. Guests included Peter Stormare, Jackass's Danger Ehren, Timmy Williams of the Whitest Kids You Know, and, inevitably, some poor, random audience member yanked out of the crowd and coerced into performing an impromptu sketch onstage.
Last week, Forman's Tuesday night residency came to an end. Now, he's moving to L.A., to try his luck amongst all the other "libidinous sociopaths" of the entertainment industry. And he's already got a new gig, and in a town any lifelong Portlander should feel comfortable in: the El Cid in Silverlake. We asked Aaron…er, Ed, what he'd miss most — and least — about Portland. Shockingly, he kept it clean. Mostly.
"Leaving Portland is kind of like having your Golden Ticket to Willy Wonka's Chocolate Factory revoked. In leaving, I will miss our Wonkavator (which goes up ways, down ways, east ways, west ways, hospital ways, yuppie ways, ALL KINDS OF WAYS!!!); the streets painted emerald green; the chocolate river that cuts the city in two. Those wacky Oompa Loompas running around the city 'keeping it weird.' I will even miss the Slugworths, with their thick-rimmed glasses and ironic mustaches. But the one thing I will not miss about the Rose City are the wild MAX rides to and from Gresham (there's no earthly way of knowing, just which way the Blue Line is going, or why the conductor shows no signs of slowing, or where the methheads' urine is flowing…). Yes, one day I hope I can find another Golden Ticket and return to this sweet land of ports. Hey, it worked for Charlie!"