Disappearing Portland: R.I.P. The Woods, 2009-2012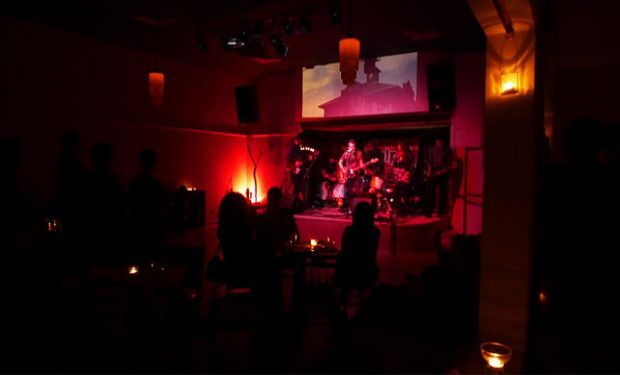 Posted by mpsinger on
On the day Michael Jackson died in 2009, The Woods opened its doors in the Southeast Portland neighborhood of Sellwood. It was a slightly morbid coincidence: Before being repurposed into a concert venue, the building was home—for close to eight decades—to a funeral parlor. That night, however, in between inaugural sets from the Portland Cello Project and Thao with the Get Down Stay Down, someone decided to put Jackson's music on over the house speakers. Instantly, recalls co-owner Ritchie Young, people took to the dance floor. It was at that moment, he says, that whatever old ghosts the mortuary might've been harboring took off, and he and fellow owners Vivien Lyon and Yoni Shpak knew they had something special.
Alas, truly special things are often ephemeral. Unable to secure an affordable new lease, The Woods held its final show last week, with hundreds of people packing the club to say farewell. It now joins the long list of great, lost Portland music venues, places that will be remembered for years to come by anyone lucky enough to have caught a strikingly intimate concert there—or anyone who won a kitschy prize at its bizarrely popular bingo night.
We spoke to Young—frontman for chamber-folk ensemble Loch Lomond—about how The Woods came into existence, and what he'll miss most about it.
Portlandia: How did The Woods come into being?
Ritchie Young: One of my business partners, Vivien Lyon, she and I lived as friends together in a church off Division Street. In the '70s, they cut it up into four different apartments. Ours was in the basement. It was just super cool. [Vivien] was basically a retired lawyer—and when I say retired, I mean she decided she didn't want to do it anymore. So both of us were super poor, and the place had over 30 years of stuff left beind by people who used to live there. Vivien has an aesthetic eye, and she made [the apartment]—y'know "Harold and Maude"? It was basically Maude's place. So Vivien and I decided that instead of going and getting catering jobs again or anything like that, we'd try to open a little place to see a show that doesn't feel like a music venue. I love most music venues in Portland, but that's their purpose, to be like a box. We wanted to create a place that's a cross between your eccentric, wealthy grandmother's place and a music venue.
It took us a while to find a place that felt comfortable, that wasn't just a box, that we'd have to do extensive work on. When we walked into The Woods, the old funeral home, it was messed up. It had pink carpets, pink walls, no lights. We had to put everything in. But as far as the vibe of it, we just knew we'd found the right place. Our big problem was we had no money. I had $8 in my bank account, I was on unemployment. One of the reasons we actually got to do it is because we signed a shitty lease, and one of the reasons we're not there anymore is because we signed a shitty lease. It never would've happened if it wasn't because of that bad deal, but it ended up kind of burying us.
The Woods is in the Sellwood neighborhood, which a lot of people in Portland think of almost as not even being part of the city. Was it difficult to book there?
There was a bit of a struggle. When Mississippi Studios opened up and Mississippi wasn't what it is now—and what it is now is a place to buy a $100 candle—I remember thinking, "No way is anyone going to go up there." And then I found myself going up there. We had a couple bands at the beginning who'd apologize, saying, "Sorry, we have a draw in Portland but not here." I'd be like, "But this is Portland." Up until about a year ago, people were like, "We're going to another city." But we'd have Crooked Fingers [play], and people would ride their bikes no matter if it was raining or sunny, all the way from North Portland. I think people got over it. The more bikes stacked up around The Woods, the more I knew people were getting over that idea of "driving to another city" to see a show.
What shows stand out the most for you?
So many. Sean Lennon I loved, because he was so chill, and he stayed afterward and danced with us until 3:30 in the morning. And I'm a huge fan of Crooked Fingers, Dolorean, Pancake Breakcast—a lot of local shows I loved. Joe Boyd and Robyn Hitchcock, that was a super-huge thrill for us. I think the secret shows I liked the best. Bands would want us to announce them the day before, and people would come out of the woodwork. Alela Diane did that, like, three times. Most all my memories are very positive. If people showed up and had fun, whether I thoroughly loved the band or if I wasn't a huge fan of the music, I still had that tingle of a rush. Kind of like, "Holy shit, we pulled this off, people are here and having fun."
One of the most popular regular events at The Woods was Monday night bingo. How did that even get started?
We had a really hard time finding anything to have on Monday. People refused to come to the Woods on Monday. We had a little meeting and asked, "What would need to happen for you to drive all the way to, say, St. Johns on a Monday?" It'd have to be theater or comedy or something. So we thought of bingo. We pushed Brian Perez, who lives in the neighborhood and has been a huge friend for a long time, to host. He has one of those personalities where, when he feels awkward, he starts making jokes, and he doesn't have a filter. He just has a strange personality. We begged him, he said no, but then the first time he did it he freaked out and had a blast. For a while, Monday nights were my night off, and I didn't want to go all the way to The Woods to hang out for my night off. Then I started hearing from friends that Monday is, like, the best night ever. So I went down and was really impressed by what Brian Perez and everyone working there was doing with that night. Way too many times I ended up going and getting drunk at the Woods on a Monday night.
There was something like 400 people there for the last bingo night.
It was really strange. People were tearing up. I was to keep repeating to myself, "It's just bingo. It's a game for people to have something to do on a Monday." I still haven't put my finger on what the emotional aspect of it was. Maybe like if one of your favorite TV shows was ending.
What are you going to miss most about the Woods?
The sense of family and solidarity. Everybody there was paid the exact same amount. Me, the door person, the person who swept the floors, we all made the same amount of money. There was no power structure there. When you walked in, it felt like a team of people working together. It almost felt like having a house party with your roommates every night. Like, "I'm tired today, but this is going to be really fun. Ee're going to make this a really special night." I think it was that, that challenge of trying as hard as we could to make it special for the people who walked through the doors, to make it special for the performers, and at the end of the night have a beer and talk about how great it was.