The Best of Into the Woods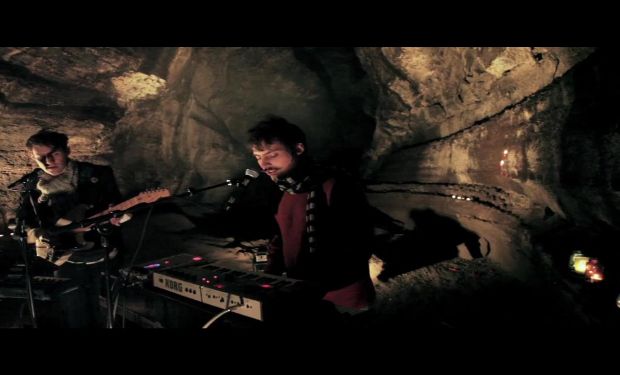 Posted by mpsinger on
For two years now, Into the Woods has been documenting Portland's vibrant music culture with the dogged persistence (and technical slickness) of National Geographic. Capturing bands in both their natural and unnatural habitats — at their homes, in fast-food restaurants and, indeed, in the woods — the site acts not just as an index of the awesome music constantly coming out of Portland but a chronicle of life in the city…which usually means escaping it every so often.
As its second anniversary approaches — if you're in Portland, there's a celebratory concert tonight at Mississippi Studios — here are just a handful of my personal favorite videos from the last two years. Visit the site to get the full story behind each shoot, and spend some time looking around yourself. Trust me, you'll be rummaging for hours.
Into the Woods #2: Explode Into Colors
Into The Woods Ep #2 – Explode Into Colors from Into The Woods on Vimeo.
Portland's dearly departed dub-punk party band get dragged out to a cabin in Rhododendron, Oregon for an intimate show with a few of their closest friends. And they kick-ass, as they usually did.
---
Feels Like Home #40: Guidance Counselor
Another of Portland's dearly departed, Ian Anderson ended Guidance Counselor's dance party last year, but not before climbing into a bathtub full of glitter and making fun of Brooklyn — which, in this town, qualifies as a heroic act.
---
Burgerville #3: White Fang
Of course bands play in fast food restaurants here! What else would you expect from a place where those same fast food restaurants also have record labels?
---
Feels Like Home #38: Ural Thomas
Feels Like Home Ep #38 Ural Thomas – "Pain Is The Name Of Your Game" from Into The Woods on Vimeo.
Thomas is a regional treasure. A member of the Seattle soul group Wheedle's Groove, his R&B roots stretch back to the late '60s, when he originally recorded the song he performs here, in his Portland garage, with just guitar and voice. Stunning.
---
Favorite Places #1: Hosannas
This clip is two years in the making: spectral pop duo Hosannas had been talking to the Into the Woods crew about filming them playing in this cave at the base of Mount St. Helens for a year before it actually happened, then it took another year to get the finish product edited and posted. As expected, it's pretty magical.
---
Feels Like Home #41: Michael Griffith


You may have heard something about this Occupy Wall Street movement that was all the rage in 2011. Well, it happened in Portland, too. Here, Michael Griffith of the band Archers performs a fragile acoustic protest song against the backdrop of Occupy PDX, with the sound of the police attempting to evict the encampment as his backing band. Powerful stuff.
There's one other video I'd classify as a must-see, but this being a family site, I can't embed the footage here. It features Big Freedia, the "Queen Diva" of the New Orleans-based hip-hop offshoot style known as "sissy bounce," performing at Southeast Portland strip club Sassy's late-night during the annual citywide music festival MusicfestNW in 2010. Go here to check it out, but be forewarned, it's NSFW.