Apocalypse Whaaa?: Where to spend your Portland Armageddon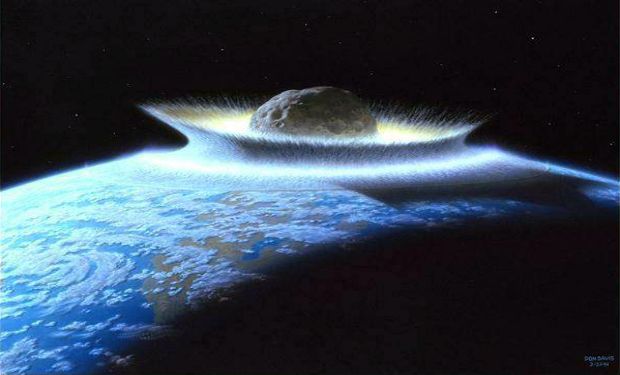 Posted by mpsinger on
As we all know, the world is ending this year. (If Roland Emmerich makes a movie about it, then it must be true.) What the Mayans didn't tell us is exactly what that means. What specific brand of doom is coming our way? Is the earth going to collapse into a giant sinkhole? Are aliens invading to steal our precious fluids? Monkey-pox outbreak? Waterworld?
Don't fret, though. Whatever the cause of our utter annihilation, Portland is prepared. If you just happen to be visiting the Rose City when the meteor hits or the sun explodes or the grain starts to overrun the planet, don't let a little apocalypse ruin your vacation. Even if all existence begins to crumble around you, there are still plenty of places to go and things to see. It just requires a minor tweak of your plans. Here now are just a few suggestions on how to spend your end-times in Stumptown, depending on the cataclysmic scenario. Calm down: We're going to get through this together. The end of the world doesn't have to be the end of the world.
Natural disaster: Andy & Bax
324 SE Grand Ave., (503) 234-7538
A military surplus store on mushrooms, Andy and Bax has essentially been stockpiling for Armageddon since it opened. What kind of Armageddon? Any kind, really: tectonic plate-shifting earthquake; Ice Age; ninja-pocalypse (a longshot, but there are throwing stars and nunchucks available just in case). Half the store looks like a costume shop specifically designed for World War II battle reenactors, with country-specific combat helmets, uniforms, boots, gas masks and a mannequin posed in a flight suit purportedly worn by a pilot in an observer plane during the nuking of Nagasaki. For the Outward Bound set—and really, that's going to include all of us once the infrastructure collapses—there's all sorts of affordable camping gear, from propane stoves and lanterns to instant hot shower kits, Dutch ovens, government-issued extreme-cold sleeping bags and skillets big enough to fry a baby bear in. Oh, and what the hell: While you're at it, why not pick up a pink bedazzled cowboy hat and Mexican wrestling mask? Live it up! There's no one left to judge you, anyway.
Nuclear war: Glowing Greens
509 SW Taylor St., (503) 222-5554
In a city where every home has a basement and every street corner a subterranean bar (not to mention the Shanghai Tunnels beneath Old Town), there are plenty of potential places to take cover when the bombs begin to fall. Keep in mind, however, that there's only one pirate-themed indoor miniature golf course. Why hide there? Well, first of all, it's underground. Second, everything is neon colored and illuminated by blacklight, which will help survivors get acclimated to the new psychedelicized radioactive environment they'll encounter once the smoke clears. And most importantly, when the earth is repopulated, future humans of the dystopian wasteland are going to need some method of blowing off steam, and someone must pass down to the next, possibly horribly mutated generation the concept of leisure. All hail the post-apocalyptic pastime: glow-in-the-dark 3D putt-putt golf!
Zombie fever: The Safari Club
116 SE 4th Ave., Estacada OR, (503) 630-3208
Technically, this place is located in Estacada, a small, rural town about 25 minutes outside Portland proper, but when the dead begin to rise and feast on the flesh of the living, it'll be a good idea to flee the metropolitan area. And when escaping masses of the shambling undead, you're going to want to be in a place with a lot of taxidermied animals. A rare combination of Portland kitsch with the, um, "redder" sensibilities of the rest of Oregon, the Safari Club is a 40-year-old roadside landmark, a restaurant and dance club decorated with dozens of stuffed big-game beasts, hanging on the walls and posed behind glass. Frankly, it doesn't have much strategic value in a zombie apocalypse. It just looks like the kind of weird setting from a low-budget mid-'80s horror movie where people would hole up to fight off the zombie hordes. Sorry if this isn't much help. I'd recommend my friends' heavily fortified compound nearby, which is where I'm going the moment the first corpses stand upright, but the invitation is somewhat exclusive.
Rise of the machines: Sauvie Island
In the case of a "Terminator"- (or, if you prefer, "Maximum Overdrive"-) style mechanical revolution, getting back to nature and away from murderous little toasters is going to be key. Sauvie Island is the largest island on the Columbia River and located only 10 miles from downtown, and from what I've gleaned, modernity stopped moving forward there in the 1700s, as it appears to exist only to provide land for corn mazes, pumpkin patches, and clothing-optional beaches. Yes, there is a nude beach there. What? Oh, just because it's the apocalypse, men are supposed to be less enthused about the prospect of ogling naked women? Whatever. Be careful, though: It is not far from Portland's industrial northwest, which could come alive with homicidal machinery. But again: Nude beach.
The Rapture: 24 Hour Church of Elvis
408 NW Couch St., (503) 226-3671
Let's face it: If this apocalypse is the work of a deity—any deity—Portland is royally screwed. We've been living in hedonistic decadence (well, decadence on the level of a really awesome thrift store, anyway) for too long to repent now. Of course, on the off chance that the King of Kings is actually the King, the best hope for us sinners of getting into Hunka-Hunka-Heaven when it comes time for His ultimate comeback special is to haul ass to Chinatown and humble ourselves before the shrine at the 24 Hour Church of Elvis. And by "shrine," I mean the coin-operated machine at the above address, which offers a blessing from the Sideburned One himself. An institution of Old Weird Portland, the Church has changed locations several times since the mid-'80s, yet it always seems to magically reappear somewhere else in town, which is enough of a sign of divine providence for me. And unlike other churches, it only charges a quarter to save your rock'n'roll soul. Salvation has never come so cheap!