The joke's on you, Portland: An interview with the pranksters behind the Peculiarium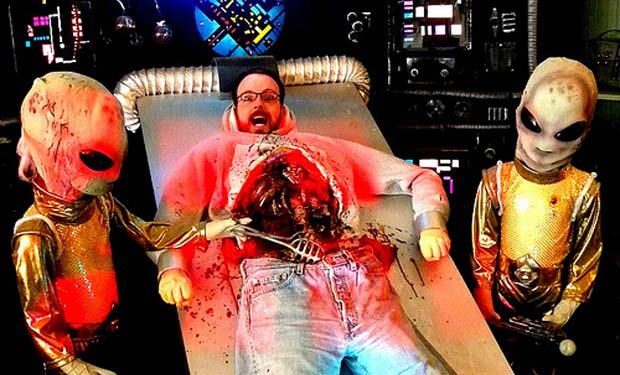 Posted by mpsinger on
In the window of the pink-colored building that houses Northwest Portland's Peculiarium, there are signs advertising its contents with adjectives such as "Bizarre" and "Shocking." The ones to pay attention to, however, are those reading, "We Promise Nothing" and "Not So Unusual, Actually." Although it sounds like a knock-off of Ripley's Believe It or Not!—or the title of a kids' movie about a kooky museum curated by an eccentric collector named Dr. P.Q. Peculiarius—it's actually more of a parody of those kind of curio tourist attractions. Exhibits include: an empty cage of poisonous lizards from "Idiotsville, Oregon"; the true contents of Al Capone's vault, complete with a visually-referenced Rickroll; an alien autopsy scene in which the extraterrestrials are the ones doing the dissecting; and, inside the gift shop, a massive stuffed Sasquatch. So it's a bit of an ongoing prank, perpetrated by Laika director and animator Mike Wellins—you may recognize his work from recent M&Ms and Frosted Mini Wheats commercials—and partners Lisa Freeman and Eric Bute, but one pulled with such enthusiasm you don't mind being tricked.
We talked to Wellins and Freeman about their big joke, the roadside attractions that inspired it, and how in a place like Portland, where absurdity is the norm, it's incredibly easy to fool people into believing that, yes, that really is a dead Bigfoot in the doorway.
Portlandia: What was the inspiration for this place?
Mike Wellins: It was a group of people who all like this kind of stuff, and we went to the next level. Lisa and I were looking around to do something to get out there, besides a Web site or something. We originally thought of doing, not a food cart, but a truck that traveled around. We went and looked at some trucks, and we're like, "Wow, this is a horribly uncomfortable place to have to work. I'm 46 years old, I don't want to be going to a gas station asking to use the bathroom." This place became available, and that was it. It harkens back to horror movies and sci-fi and all that stuff we like, and also that tongue-in-cheek, putting-a-museum-on-its-ear kind of humor. To me, that's one of the really fun, subversive parts. Some people really do see it as a museum and will be like, "Is this real?" There's that element of teasing people, and also that element of fooling people, which is kind of surprising. There's a really fine line between screwing with people and having fun with people. That was a big part of it. There's also a lazy aspect. Like, "I don't really want to go research a bunch of stuff. Let's just make up a history." You couldn't force me to read history in high school, but I friggin' love history and true things now, and the strangest stories I can find. So it was a natural transition to just make up our own lore about this area.
Lisa Freeman: I just love the subtle humor throughout. You don't have to get it to enjoy it, but if you do get it, it's almost like you're in on an inside joke. It's real fun to watch people's reaction to things. Some of the funniest stuff is when people don't get it. They'll say, "Where did you find those aliens? Did they crash in your yard?"
Does that really happen a lot?
Wellins: We've had people come in and go, "Oh yeah, I saw Bigfoot up at Trillium Lake, talked to him for half an hour." They're serious! They're like, "We went camping one time, and [pointing to giant Sasquatch mannequin] that's the guy we saw, except he was shorter and fatter."
Growing up, were there places you visited that you modeled the Peculiarium after?
Freeman: Of course we both love Ripley's.
Wellins: My dad was a good dad, but he was in the military. We'd go on vacation, everybody would get up at four in the morning, and he had it all planned out, and we never got to stop at places like this. And we got to pick one gift on our whole trip, which was horrible, because you get something early and later on you're like, "Oh no! I didn't know they'd have these!" So I used to drive past all these places. Once I became an adult, when I go on vacation I don't make reservations, it's like, let's just explore. So for me, it was, let's make a place I never got to go to. I stop at all those things now, even the most rinky-dink, hokiest ones, because they're so weird. I'm amused by weirdness and awkwardness.
Tell me about the art shows you have in here.
Wellins: We just sort of opened the door. Monte Wolverton, whose dad Basil Wolverton was a Mad Magazine artist, he did a great show, and he couldn't get a show anywhere else.
Freeman: He came in and didn't say who he was. He dropped a CD off and ambled out the door.
Wellins: I saw "Wolverton," looked at the CD and saw the first picture and said, "Yeah, you can have a show." To me, there is an element of sterility that goes with a lot of art galleries, where it's not supposed to be fun. Sometimes, the openings are like wakes, where everyone's standing around wearing black, and they're very quiet. I need more humor in it. So we embrace people who do weird, silly stuff, and couldn't get shows anywhere else.
So what's the deal with the whole Conrad Elwood story?
Wellins: Originally, we wanted to have a bigger back story, to cement [the Peculiarium] to something older than us. It has this long history that precedes this place by 80 years. And we're out to deliberately confuse people who want to be confused. Some people laugh when they read the signs; other people, like we said, don't know what's real.
Freeman: Most people do think he's real, and we perpetuate that all the time.
Wellins: Yeah, we'll be like, "Oh, he was just here, you just missed him."
Freeman: "He just dropped off a new package! We haven't opened it yet, but it'll be good."
---
The Peculiarium is located at 2234 NW Thurman St. Its winter hours are 12pm-6pm, Fri.-Sun. For more information, call (503) 227-3164 or visit peculiarium.com.
(Photo by Todd Mecklem)