Only in Portland: Alien Nativity Scene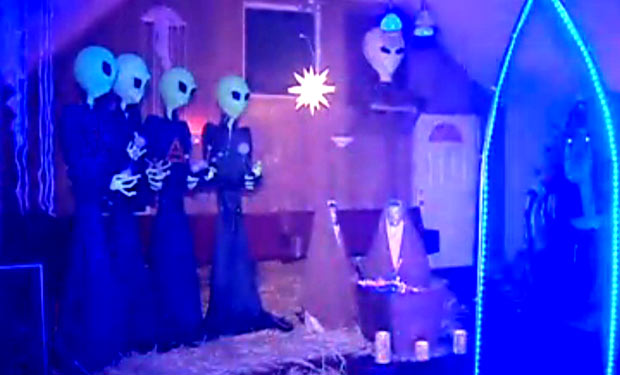 Posted by Claire Evans on
Every once in a while, something comes along in Portland that is so hilariously, patently absurd that it actually makes me squeal with pleasure. Behold, the most delightful thing, the crème de la crème of "Keep Portland Weird," the sparkling topper on the Christmas tree of the pure, unhinged Portland Id: the alien nativity scene.
Why yes, it is a fully-immersive nativity scene-cum-art installation in a former church, complete with 3D glasses, hanging LED ropes, four alien magi, and a shaman Santa Claus. It's "not for everyone," warn our local news anchors, while its creator, artist Matt Henderson, explains, "you wind up seeing a reflection of yourself, and that's the symbolic message of nativity."
This brings new meaning to "I Want to Believe." The video below from local news outlet KGW, complete with baffled onlookers, psychedelic first-person shots through some rainbow glasses, and an extremely bemused news team, is necessary viewing. See you there.