A Brief Interview with Fred and Carrie from "Portlandia"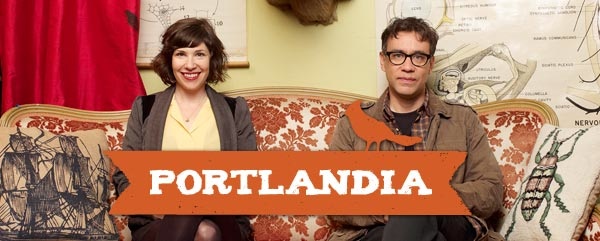 Posted by Melissa Locker on
"Portlandia" stars Fred Armisen and Carrie Brownstein took a few minutes out of their busy schedules starring on "Saturday Night Live" and touring with Wild Flag, respectively, to sit down and talk to us about the upcoming season of "Portlandia" as well as Portlandia: The Tour. Wasn't it nice of them to make time for their little old network? We thought so too, because we're not just a network, we're fans, too.
Since we spoke last year, "Portlandia" has become a huge hit. And people are putting birds on things from coast to coast.
Carrie Brownstein: We're surprised with the incredible reaction we've gotten from people. It's nice. We're really fortunate in the response we've had. And birds on things are nice.
Fred Armisen: You know, we're fortunate it's a bird. It's nice to look at. It could have been a lot worse.
With the success of the show, how often do people ask you about putting birds on things and declaring things are SO over? Are you sick of it at all?
Fred: I'll never be sick of anything. It's just nice.
Carrie: Yeah, we're just grateful.
You have some amazing guest stars in season two including Tim Robbins, Penny Marshall, Kristen Wiig, Andy Samberg. Do you write parts for them specifically or just work them into stories?
Carrie: A little of both. Sometimes someone expresses an interest in working with us and we will try to come up with an amazing part for them. Sometimes the story comes first. Like the warlord with Tim Robbins. We write that part and had to figure out who we could reach out to for it. We're lucky that we have been able to work with so many amazing people.
Tim Robbins strikes me as a natural warlord. Do you know the game fuck/marry/kill?
Carrie: Yes
Fred: Yes, we invented it.
Okay, so you know it then. Let's play with some of your characters: Candace, Bryce, and Kath:
Fred: I don't want to kill any of our characters.
Carrie: I don't want to kill any of them, and I also don't want to have sex with any of them. Even though there is some sex on the show, when I think about it, it's just a blank. I mean it's sort of like having sex with each other or ourselves. Is the third option marriage? I guess that's an option. Although it seems impossible to imagine.
Fred: Especially the feminist bookstore ladies that's impossible
Carrie: Kath would make a decent wife for the right guy. Nance is too high maintenance.
Fred: What's the name of the woman you play in the band?
Carrie: Merrill?
Fred: Merrill would be interesting.
Carrie: She wasn't an option!
Fred: I'm adding her. I'd pluck her out and add her.
Carrie: Well then if we can just choose anyone, I'd marry Gahvin. And you would be this little redheaded prop that I brought around.
Fred: Merrill wears like a white jumpsuit. That's a million points right there.
Carrie: That's a Devo fantasy for you.

Girls across America are going to be wearing white jumpsuits to your tour stops now.
Fred: Oh that would be nice. We're bringing wedding rings with us. We are definitely prepared to have some proposals.
Carrie: We should do a couple marriages on stage. Maybe four different weddings?

Speaking of the "Portlandia" live shows, they sold out across the country in a matter of minutes. Was that a big surprise?
Fred: Yeah. Of course.
Carrie: It's very flattering. We had no idea how things were going to go. We're an untested live act, so we are just very flattered that people want to come see us.
What can people expect on the live show? Besides marriage proposals.
Fred: There will be music and a Q & A. We'll show some clips from the show.
Carrie: We're going to have some friends joining us on stage.
Fred: We want it to feel like it's a visit in our living room.
You must have very large living rooms
Fred: Yeah, we do.
Are there going to be costume changes? Are you going to bring various "Portlandia" characters to life on stage?
Fred: We're going to be dressed as Devo fans in white jumpsuits.
Carrie: I guess there's no one to take over the show while we change, so we can't really do it.
Fred: No costume changes. There's no time.
Carrie: Well, while we're screening some clips, maybe.
Fred: There's no time! We can't!
Carrie: When I saw Madonna's Like a Prayer tour she changed her costumes six or seven times. She set the bar pretty high.
Fred: We can't do it! But, no joke, Liberace did a month of Christmas shows at a theater where I was an usher. There were so many costume changes. But we can't. Really. We can't do it! There's no time! We can't.
Carrie: There's no screen to go behind and change, I guess. However, there will be partial nudity, yes, but no costume changes.
Fred: Just costumes off. That will be a change.
Can you tell us who some of the special guests and friends will be who will be joining you on stage during the tour?
Fred: No.
Carrie: You can make guesses based on our location. For New York and Los Angeles that will be pretty hard, because there are so many people there. But you can guess anyway.

How are you going to be touring? Two on a match in a van?
Carrie: The actual dates are pretty far apart. The first couple of shows, yes, we're going to travel by car. It's just from Portland to Seattle. But the rest of the dates are really spread out from LA to Chicago and New York. So we're going to travel via the greatest mode of transportation: A jet airplane. I tour enough.
Fred: Not a private jet.
Carrie: No, we can rough it.

Are we going to see some of the same characters from season one in season two?
Fred: There will be some new people, but some of our favorites are coming back, too. Like Candace and Toni from the feminist bookstore.
Carrie: Then there are lots of new characters who appear more than once.

If you had to be one of your characters for the rest of your life who would it be?
Fred: Oh it would have to be one that would keep us healthy and have the nicest things.
Carrie: That's a nice way to think about it. Most of our characters are pretty healthy.
Maybe not the dumpster divers.
Carrie: Maybe not them. Maybe Kath and Dave are too high strung? Maybe Michelle and Brendan.
Fred: They at least enjoy things and enjoy life. Doug and Claire would definitely take us places.
Will the characters have grown at all during the hiatus? Or is it more of a "Seinfeld"-ian no hugs, no growing idea?
Fred: We got into all of them a little bit more. So you will see different and new aspects of each of them.
How should we spend the last few minutes of this interview?
Fred: Arguing of course.
How about instead, what is the most important thing people should know about the show?
Carrie: It is most important that people know it is on. Then once it's on, there are a lot of messages in each episode.
Fred: We want them to watch One Moore Episode.

"Portlandia" returns to IFC on January 6th at 10 p.m. ET