10 Times IFC Stars Shined on the Big Screen
Watch the Maron series finale now on IFC.com and the IFC app.
Posted by Brian Steele on
Photo Credit: DreamWorks Pictures
With Bill Hader owning the box office these days, with star turns in both Finding Dory and The BFG, we got to thinking about our favorite movies featuring the stars of IFC. From indie dramas, to cult hits, box office behemoths to comedy classics, the stars of Portlandia, Documentary Now!, Comedy Bang! Bang!, Maron and Todd Margaret have popped up in some of the best movies of the last two decades. It wasn't easy to narrow down, but here are our favorite movie roles from some of IFC's brightest stars.
10. Will Arnett, The Lego Movie

Paramount Pictures
If we just look at his TV work — from Arrested Development to 30 Rock and Todd Margaret — Will Arnett is a national treasure. And with his turn as Batman in The Lego Movie scoring The Dark Knight his own spin-off flick, it looks like the man formerly known as GOB finally has a movie franchise to call his own. While he may not be the Batman we deserve, he will always be the smug, sarcastic Batman that we need.
---
9. Carrie Brownstein, Carol
It's pretty remarkable to think that Carrie Brownstein had such a memorable turn in this critical darling of a film, considering she's only been an actor for a few years. Before Portlandia, she was best know for fronting the indie-punk trio Sleater-Kinney, and yet here she was in 2015 playing Genevieve Cantrel, a young woman who has a dalliance with lead Rooney Mara in Todd Haynes' awards season favorite. Watch the video above where Carrie talks about loving the film's script, and her brief (but crucial) role. (Catch up on Portlandia right now on IFC.com and the IFC app.)
---
8. Scott Aukerman, Austin Powers in Goldmember
Yes, that's Comedy Bang! Bang!'s own Hot Saucerman in a blink-and-you'll-miss-it part as a Young Nigel, Austin Powers' proud papa. Scott was much more known for being a writer on cult comedy shows like Mr. Show at the time, so his brief appearance in the third Austin Powers outing was more of a bit part than a star turn. As Scott said of the role in a 2013 interview, "Who knew being Michael Caine's body double in Austin Powers 3 was in my future? If I could go back and tell Young Me that I would end up doing that, I wonder what reaction he would give. 'Who is Austin Powers and why should I care?'" Just call him Scott Cameoman. (Click here to see all airings of Austin Powers in Goldmember on IFC. Catch up on Comedy Bang! Bang! right now on IFC.com and the IFC app.)
---
7. Weird Al Yankovic, UHF

Orion Pictures
What, did you think we were going to pick Al's brief turn in the Halloween II remake? UHF is THE Weird Al movie. Full of over-the-top parody, a killer collection of crazy songs, and a star making turn by future Kramer Michael Richards, "Weird Al" both wrote and starred in this '80s family night staple. Heck, the term "cult classic" could have been coined just for the "Wheel of Fish" scene. (Catch up on Comedy Bang! Bang! right now on IFC.com and the IFC app. Click here to read 10 things you may not know about UHF.)
---
6. Jack McBrayer, They Came Together

Lionsgate
Few have seen They Came Together, the David Wain-directed, Paul Rudd/Amy Poehler rom com spoof, and that's a shame. With a murderer's row of comedy heavyweights, and enough silliness to keep you giggling for days, They Came Together is a cult classic waiting to happen. McBrayer — who we loved on Todd Margaret's third season — plays one of Rudd's friends, who gives advice almost as bad as his jump shot.
---
5. Seth Meyers, American Dreamz

Universal Pictures
The Documentary Now! cocreator turned up in the 2006 Hugh Grant pop music spoof American Dreamz as a slick agent with the awesome name of Chet Krogl.
---
4. Bill Hader, Tropic Thunder

Dreamworks Pictures
Hader was still making a name for himself on SNL when he got cast opposite an unrecognizable Tom Cruise in this comedy classic. Playing an assistant to the most foul mouthed, grotesque, and yet oddly effective producer Hollywood has ever seen, Hader got laughs by playing it straight. In fact, Tom Cruise could learn a thing or two about playing it straight from the guy.
---
3. David Cross, Waiting for Guffman
While Todd Margaret star David Cross would no doubt jokingly site Alvin and the Chipmunks: The Squeakquel as the highlight of his feature film career, for us, he will always be the Blaine, Missouri UFO expert from Christopher Guest's classic mockumentary who visits the same alien landing site every day for two years. With far too much time on his hands and a loose understanding of how anagrams work, we'll just have to take his word for it when it comes to the greatest mystery of our time.
---
2. Fred Armisen, Anchorman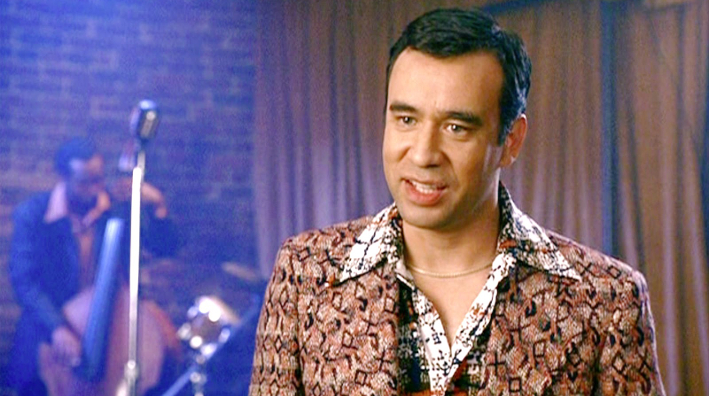 DreamWorks Pictures
Fred was still fairly new to SNL when he landed a cameo in Anchorman, the first film collaboration from Will Ferrell and Adam McKay. Playing a club owner who could not get enough of Ron Burgundy's sweet jazz flute, Fred nearly stole the scene out from under the comedy icon, launching a killer career in movies in the process. (Catch up on Portlandia right now on IFC.com and the IFC app.)
---
1. Marc Maron, Almost Famous

Dreamworks Pictures
Marc spent most of the early days of his career doing stand-up and brooding in the back of dark bars, but he did pop up occasionally in the odd cameo. In 2000, he showed up in Almost Famous as a furious music promoter who tried to keep the rockers in Stillwater from fleeing without finishing their full set. (Fans of Marc's WTF Podcast will recognize his "Lock the gates!" line from the opening of every episode.) With Maron coming to an end, maybe it's finally time for "Angry Promoter" to get his own movie. (Watch the final season of Maron anytime on IFC.com and the IFC app.)