5 Sally Struthers Roles We Love
Catch Sally Struthers on a brand new Maron tonight at 9P on IFC.
Posted by Brian Steele on
When we think of Sally Struthers, we tend to think of her work on All in the Family and with ChildFund, begging us for "just pennies a day" to help the impoverished children of the world. For all the good work she did with them, those depressing commercials from our childhood have sort of overwhelmed the fact that she's also an accomplished actress. That's right, Sally earned a lot more than pennies a day starring on some of the most famous TV series of the last 40 years. With her guest star turn as Marc's new landlady on IFC's Maron, we ask you to take a moment, and think of the children. For just a couple minutes a day, they can read this article about her five best roles, and get ready for tonight's all new episode of Maron.
5. Still Standing, Louise Miller

20th Century Fox TV
Sally made her triumphant return to network comedy as Bill's manipulative mother on this long-running CBS hit.
---
4. Dinosaurs, Charlene Sinclair

ABC/Disney
As the fashion-obsessed tween dino daughter on ABC's Dinosaurs, Sally got to explore her vapid side by voicing this pubescent protoceratops.
---
3. The Getaway, Fran Clinton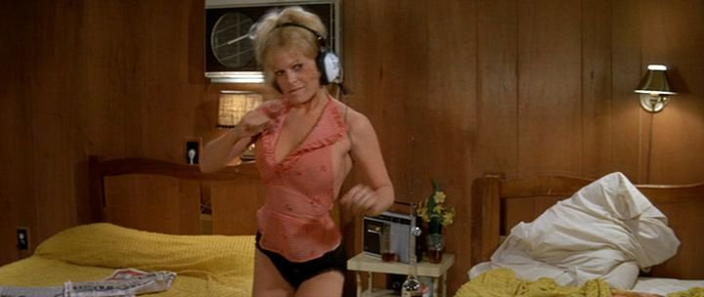 Warner Bros.
A breakout part for the young actress, Struthers got to play a sexy kidnap victim in over her head opposite screen legend Steve McQueen.
---
2. Gilmore Girls, Babette Dell

Warner Bros. Television
As Lorelai and Rory's next door neighbor, Babette was famous for always saying the wrong thing and holding an elaborate wake for her cat Cinnamon.
---
1. All in the family/Archie Bunker's Place/Gloria, Gloria Bunker-Stivic

Norman Lear Productions
And, of course, the part that made her a star. Struthers won two Emmys playing the liberal daughter of conservative Archie Bunker on All in the Family. She would return to the role two more times, on spin-offs Archie Bunker's Place and Gloria.
Check out Sally Struthers in a clip from tonight's brand new Maron.