Dave Anthony on Writing for Maron and Playing a Different Version of Himself
Find out how Marc deals with Dave's success on a brand new Maron Wednesday at 9P on IFC.
Posted by J. Keith Van Straaten on
Comedian, writer, and podcaster Dave Anthony started playing a fictional version of himself on Maron as a guest star in season one. By season two, he was a regular cast member and a writer on the show. An episode he wrote in season three, "Racegate," was nominated for a 2016 Writers Guild Award and received critical acclaim. With Dave's star on the rise on this week's brand new Maron, we spoke with the real Dave Anthony about playing "Dave Anthony," being recognized by fans and the WGA, and what he thinks of the future of podcasts.
IFC: How did you come to be a cast member and write for the show?
Dave: I had been on the first season [as an actor], and at that point, they said they liked me and wanted to have me in more episodes, but they had already sort of written out the season arc. They talked about bringing me back for the second season and then Marc [Maron], in the first season, he didn't have another comic in the room writing. He said it was really important to have another stand-up comedian in the room, particularly one who had a little experience with alcoholism and sort of that world, which I have. He thought of me, [and] brought me in writing for the second season.

IFC: Is the writing process different than on other shows?
Dave: We have to get [our scripts] done before we shoot. A lot of shows will be writing while they're shooting, but for us, it just won't work that way. Marc has to be part of the writing process and there's no way he could [act and write] at the same time.

IFC: How is it writing for yourself and also playing a version of yourself?
Dave: A psychopath version of myself. Marc and I have a little bit of similarities in the way our lives have gone and just how we sort of behave in life. We wanted my character to be a little bit different than me, just so it would have a better contrast. I don't know who first started writing me that way, but it just started to turn into super deadpan. It just felt really natural to do it that way when I was dealing with Marc who is a character who is clearly more excitable and gets a lot more upset on the show. We thought it would be a good counter to that.

IFC: Do you ever find yourself saying, "Well, that's not something that this character would ever say…"?
Dave: Yes! Which is crazy. I've been like, "The character isn't super dirty, he's just mean and weird." You have these conversations and you're like "wait, what's happening?" It's a literally made up character. We call him Dave Anthony, but he is just completely different than me.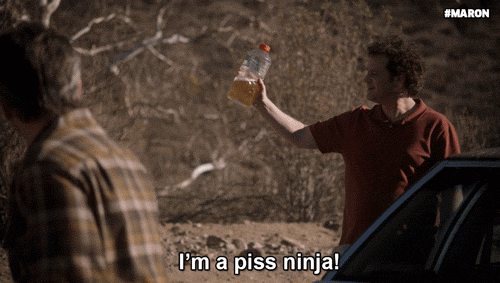 IFC: Do people you encounter who watch the show have a hard time with that concept?
Dave: Yep. Totally. Most people think that's what I am going to be like. A lot of people are scared of me a little bit when they first meet me, thinking I'm going to be that person. Then they're like, "You're not like that at all." I'm acting, but it's my name, so it does make it weird.
IFC: There are several scenes this season with Marc being recognized and interacting with fans.
Dave: We seem to be doing it more this season. As the show has gone on, his profile has increased. The [WTF podcast interview] with the president…he's just kind of gone up a few levels so we just felt like, "Well, that's what the show is." We try keep it sort of based on his life, although this season is a departure.
IFC: Speaking of success, the "Racegate" episode was nominated for a 2016 Writers Guild Award. How did you find out about that?
Dave: Oh man, that was crazy. I was in the writers' room and I got a text from [Everybody Loves Raymond writer] Mike Royce. He just texted me and was like, "Congratulations on your award." I was like, "Wait, what's happening?" Then I looked it up and it was already online everywhere. It was a pretty big deal because our show was the small show compared to all the other shows it was up against. It was funny, when I wrote that episode, we sat down to read it for the first time and [fellow Maron writer] Jerry Stahl looked across the room from me and said, "You're going to get nominated for this episode." I was like, "Shut up."
IFC: Was the episode based on real life?
Dave: The storyline came from a tweet that someone made about Marc not having enough black people on his podcast. He, of course, was offended by that and I started asking him to name them. Then he was like, "Well, we travel in different circles and its hard to find them…" And I was like, "Well, there's our episode. We have black people upset that you're not having them on the show and we go from there."
IFC: The dialogue spoken by Bruce Bruce and the other comics just talking shop felt very real. Was that something that was written out or did you just give them a guideline of what to discuss?
Dave: No, because when you get into stuff like race, when it's handled on comedy shows, it's usually handled so poorly and so obviously. I actually locked myself in a hotel room for three days, and I started reading all these blogs or articles about black comics and how they felt and what it was like to be in sort of a segregated community. How they had to change themselves when they went into different clubs, which white comics don't have to do. From that, I created the dialogue between them.
IFC: Were you surprised by the reaction to the episode?
Dave: No, you know what's funny is I almost can't remember the reaction. The only reaction that I really cared about was from black comedians. The comedians that we cast, because we cast all comedians, they were all super happy with the dialogue. I still get African American comedians coming up to me and saying, "Hey man, that episode was spot-on, thank you." That to me means more than anything. I have no idea what the experience they go through is, but through reading what they were saying, I was able to translate it. That to me was awesome.
IFC: Just like Dave on the show, you have your own podcast. How did the idea for The Dollop come about?
Dave: I've always been super into history and I spend tons of time reading about stuff online. Because I feel like the time when you could start a podcast and just talk to people is over and I think you have to have really specific content now to have a podcast that sort of pops out of the ocean of podcasts.
IFC: Speaking of an ocean of podcasts, you're part of the LA Podcast Festival, now in its fifth year. How did that start?
Dave: Yeah, we're coming up in September. It was an idea I had because Walking the Room was a really popular podcast [I co-hosted]; our fans really wanted to see it live. I got together with a couple friends, Graham Elwood and Chris Mancini, who had the Comedy Film Nerds podcast. The one thing about podcasting is that it's really people doing it on their own. We felt like if a big company came in and started being gate keepers, it probably wouldn't have the same feel as if some actual podcasters started it. That's why we tried to jump in, and sure enough, as soon as we started doing it there were a bunch of companies that said they'd planned on doing it and we got there before them.
IFC: Last thing: How do you think the Giants are going to fair this year?
Dave: I don't know, man. I'm getting my hopes up and I feel like I shouldn't. I think they're doing really well. They have the 1-2-3 pitching combo so it could all happen, that's the biggest thing.
Click here to read part two of our interview, where Dave shares his thoughts on Marc's journey to sobriety in season four and his character's newfound success. To see what Dave's up to on Wednesday's brand new Maron, check out the clip below.