The 10 Worst Roommates In Pop Culture History
Find out how Marc deals with his new roommate on the season premiere of Maron available now on IFC.com and the IFC app.
Posted by Luke McKinney on
Photo Credit: Universal/Everett Collection
Last night's season premiere of Maron found Marc's disastrous downward spiral landing him in rehab with an annoying roommate who breaks into rhymes whenever he feels like it. Played in an inspired bit of casting by real life celebrity rapper Chet Hanks, Trey makes Marc's life a living hell by taking his stuff and doing unspeakable things to his bed. Check out some other insufferable roommates from pop culture below, and be sure to catch up on the two-episode Maron season premiere on IFC.com and the IFC app to see how Marc deals with his new rapping bunkmate.
10. Scott Pilgrim, Scott Pilgrim Vs the World
Scott Pilgrim is the ultimate geek heroic fantasy. In that he's living in a constructed fantasy world while ignoring all the people who have to deal with his failures. Saintly roommate Wallace Wells offers rent, food, and even his own bed to his eternally immature friend who rewards him by whining and leaving clothes on the floor.
---
9. Hooch, Turner & Hooch
Nobody likes being forced to share their home. This goes double when you're a police officer, the work is a murder investigation, and the unwelcome guest is a dog spraying more fluid than a leak in the Hoover Dam.
---
8. Floyd, True Romance
Perfectly portrayed by Brad Pitt, Floyd is the worst kind of stoner roommate. He never answers the door, and barely moves from his position on the couch. Even worse, he rats out your pals' location to a tough-looking stranger who comes to the door without a second thought. Not to "condescend" to you Floyd, but you're kind of a tool. You probably never share that honey bear bong.
---
7. Gil and Brynn, Bridesmaids
Annie (Kristen Wiig) is already at a low point when her roommates Gil (Matt Lucas) and Brynn (Rebel Wilson) ask her to move out. To make matters worse, the tattoo-obsessed Brynn isn't even Annie's roommate — her brother has been letting her stay rent free so she can wear Annie's clothes and read her journal.
---
6. Eddie, Friends
You might remember Eddie (played by the always reliably deadpan Adam Goldberg) as Chandler's roommate who moved in after Joey moved into his own place with his big time soap opera money. Eddie proved to be a complete psycho, accusing Chandler of sleeping with his ex-girlfriend Tilly and watching his new roomie while he sleeps. In the end, Chandler tells Eddie that Hannibal Lector would make a better roommate. Could he be any creepier??
---
5. Bevers, Broad City
What's worse than an annoying roommate who eats all your food, tries on your clothes, and never seems to leave the apartment? How about a guy who isn't even technically your roommate, but in fact the boyfriend of your roommate who is never around. If you're going to hang out in your underwear all day, the least you could do is pay rent, dude.
---
4. Chris Knight, Real Genius
Freshman Mitch Taylor faces every college student's worst nightmare: a pushy roommate. Chris Knight might be a genius, but within the first minute of their acquaintance he's thrown out Mitch's clothes, talked about his genitals, and smashed the dorm-room window.
---
3. Oscar Madison, The Odd Couple
The Odd Couple defined the idea of mismatched roommates. Uptight neat-freak Felix and easygoing slob Oscar were meant to be just as bad as each other, but anyone who's ever lived with other people knows that the lazy one is always the worst. At least the obsessive is keeping things clean while annoying you.
---
2. Roberto, Futurama
Fry's regular robotic roommate is an indestructibly amoral freeloader who'd sell Fry's kidneys if he could think of a suitably lazy way to extract them. But Bender is the deity of domestic bliss compared to Roberto, the stabbing-obsessed psychobot who shares Fry's room in the robot asylum.
---
1. Hedra Carlson, Single White Female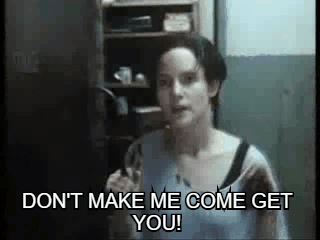 Hedra Carlson takes "drinking the last of the milk" to the ultimate extreme, stealing her roommate's boyfriend, identity, and takes a stab at stealing her life. Well, it's more of a butcher's hook slash than a stab. Which makes it all the worse.