5 Things You Need to Know About the New Season of Maron
Maron season four premieres Wednesday, May 4th at 9P ET/PT with back-to-back episodes.
Posted by Mike Schuster on
After hitting rock bottom in the season three finale, Maron fans are wondering how deep the titular curmudgeon can sink. Well, we won't have to wait much longer as the fourth season is slated to premiere on Wednesday, May 4th at 9P ET/PT with two back-to-back episodes. The new season will air Wednesdays at 9P on IFC with episodes available anytime on IFC.com and on the IFC app. 
So what can we expect for this year's 13 new episodes? Here are five things you need to know before diving into the new season of Maron.
1. Marc begins Season 4 in a very dark place.

When we last left Marc, he was spiraling out of control from addiction and self-loathing. But the season premiere won't be much better for our underdog: He's lost his house, friends, career, and even his beloved cats, leaving him to become a squatter in a storage facility. Let's just say it makes the garage look like the Four Seasons.
---
2. But he'll make some interesting friends along the way.

Unfortunately for Marc, the road to recovery has several exasperating obstacles. He has to face a rehab facility where he's the oldest person there (and if there's one thing Marc hates, it's whiny millennials), a sober house filled with sexual awkwardness, and an extended stay at the home of his competitive frenemy Dave Anthony. According to Maron, "In this season I was able to have the worst things that could happen in my life, happen. I'm okay. I made it through the fiction and it was hilarious. I actually end up in a fictionally better place too."
---
3. This season will have guest stars aplenty.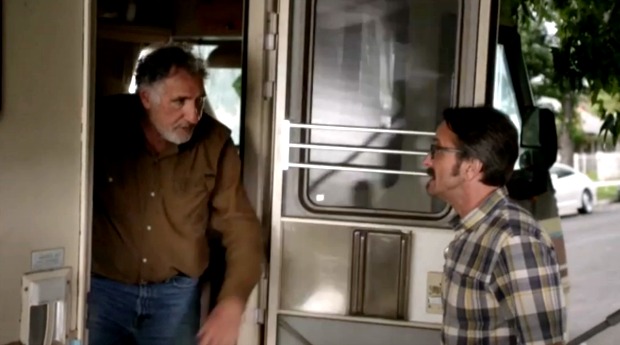 As it has in previous seasons, Maron will continue to feature cameos by Marc's comedy pals and offbeat guest actors. We'll see drop-ins by Ron Perlman, Constance Zimmer, Amy Smart, Joey "Coco" Diaz, and the Sklar Brothers.
---
4. Of course, returning fan favorites are back.

Plenty of familiar faces will reappear this year. We'll see the return of Marc's parents (played by veteran actors Judd Hirsch and Sally Kellerman), as well as dedicated buddy Andy Kindler and dubious cohort Dave Anthony.
---
5. Speaking of Dave, he's doing pretty well.

Marc will also have to deal with his "frenemy" finding success in the new season. To tide you over until Maron's return, you'll want to keep up with Marc on his WTF podcast, the full archives of which are now available on the Howl Premium app. Oh, and in case you're like Marc and weren't aware that Dave Anthony also has an awesome podcast, you should definitely check out The Dollop, where Dave and cohost comedian Gareth Reynolds cover all things strange and horrific from American history.
Want more Maron? Check out Marc talking about the new season below. And catch up on season three right now on iTunes and Netflix.