Listen to Wyatt Cenac's Revealing Interview About Jon Stewart on WTF With Marc Maron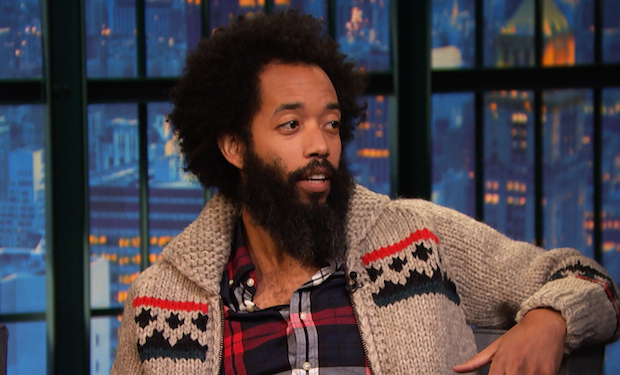 Posted by Mike Schuster on
As Jon Stewart's exemplary tenure on The Daily Show draws to a close, bloggers and news outlets are heaping praise on the 52-year-old late night host and pleading that he reconsider his retirement. But one member of Stewart's flock didn't have as many good things to say about the comedian and show when he appeared as a guest on Marc Maron's WTF Podcast.
Former correspondent and writer Wyatt Cenac related to Maron the explosive debate surrounding a polarizing impersonation that led him to leave the show. During the lead-up to the 2012 presidential election, Stewart had performed an impression of black Republican candidate Herman Cain which Cenac felt bordered on racist, if not completely crossed the line. At a writer's meeting, the staffer had voiced his objections to the tone and mannerism that the host adopted for the candidate, comparing it to racially stereotyped character Kingfish from the Amos 'n' Andy radio program. Cenac said, "I wasn't here when it all happened. I was in a hotel. And I cringed a little bit. It bothered me."
He continued:
[Stewart] got incredibly defensive. I remember he was like, What are you trying to say? There's a tone in your voice. I was like, "There's no tone. It bothered me. It sounded like Kingfish." And then he got upset. And he stood up and he was just like, "F–k off. I'm done with you." And he just started screaming that to me. And he screamed it a few times. "F–k off! I'm done with you." And he stormed out. And I didn't know if I had been fired.
From there, the fight gradually led to Stewart's office and was only quelled when the office dog pawed at them to stop. (Staffers even confessed that the other pups in the office were shaking because the shouting was so loud.) But the fight cut deep for Cenac, who remarked, "I was shaking, and I just sat there by myself on the bleachers and f–king cried. And it's a sad thing. That's how I feel. That's how I feel in this job. I feel alone." And although Stewart apologized to Cenac and the rest of the staff, the writer "never felt comfortable" during the rest of his employment there.
Other writers and producers confirmed the story to The New York Times' Dave Itzkoff, with executive producer Jen Flanz explaining while uncomfortable debates are not uncommon for the show when tackling controversial issues, this was one the worst. "Nobody wants it to get out of control the way that particular discussion did," she said. "I've been here for 16 years, and I can count on my hands the times that it even got close to that."
Stewart and Cenac have since exchanged emails, wherein Cenac said Stewart "kind of apologized as much as he could, for if [Cenac] felt hurt." The host extended an invitation for him to attend the final taping, which the former writer said he has considered.
Nevertheless, the anecdote is a surprising behind-the-scenes look at a television institution renowned for being a bastion of progressive ideals and racial sensitivity.
The rest of Cenac's WTF interview includes some fascinating anecdotes about his family and stand-up career. It's well worth a listen.