Marc Maron on Why Maron Season 3 Is the Funniest Season Yet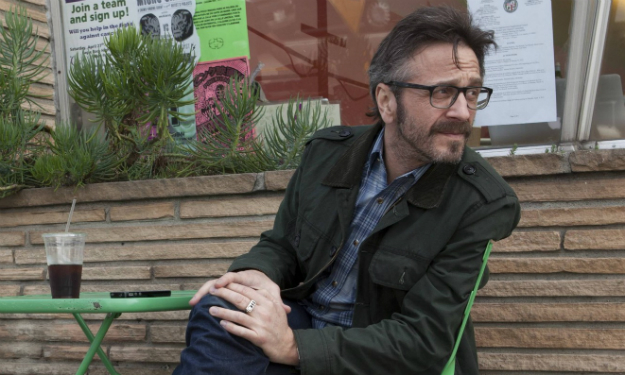 Posted by Nick Romano on
Marc Maron is not the same person that he portrays on his IFC series, Maron. He's not the same person he portrays in his standup. He's not the same person he portrays on his hit podcast, WTF with Marc Maron. Though, as he's said, some people would like him to be. These are all just different facets of the man behind the name, though not all of them paints a true picture.
As Maron is poised to debut season three of Maron, airing on IFC Thursday nights at 10p, he's become more adept at juggling these different aspects of his life and making sure they're distinct from one another. But what is the real Marc Maron like? We had the opportunity to chat with the comedian over the phone on everything from the current landscape of comedy to his how guests react when they first step into the Cat Ranch.
He even gave us a glimpse into his real life running errands.
Hopefully you'll appreciate this: With the new warm weather, I went to a coffee shop recently and I wanted to get espresso with ice and it turned into the exact same situation as Marc had on the show. The barista kept explaining to me that the ice dilutes the espresso, and in my mind I'm like, all I want to do is strangle you right now. Was that a specific moment from your life, or did you or the writers come up with that?
Maron: No, that happened to me in New York at that 9th street coffee place in Chelsea Market.
When I think of instances like that I call them "Maron Moments." Do you have similar situations in your life?
Maron: As Maron moments? Yeah, all the moments in my life.
Do you have a recent one you can share?
Maron: Well, right now I'm driving to return this amplifier. I got this tube amp and something went wrong with it and I brought it back and they fixed it, and then I brought it back and it wasn't fixed to my liking, or maybe I'm paranoid or maybe I can't tell whether it's broken or not. And now I'm bringing it back again to trade it in for another one, while they figure out if there's something wrong with this one. I went through this with two amps already. I don't know if I'm crazy or not, and I'm completely obsessed with it… I'm literally going to have to get off this phone call for a minute to make this trade out, but that's sort of my life. I'm just spiraling until I get this thing right and I don't know if I'm ever going to get it right.
These kind of situations, it seems like they're very similar to what you go through in real life. After two seasons on IFC and a third one on the way, do you think the lines between you and your character are more blurred than ever, or are you able to separate them?
Maron: No, I think they've gotten more separate actually. I think over the three seasons I've gotten more comfortable with the sort of nuts and bolts of TV production and acting and story writing and all of that stuff. So, this season is the funniest season, but there's actually, I think, a more distinct line between my real life and the fictional life. There's still a lot of things from my life in the show, but a lot of them are just points of departure and not necessarily the entire story. It's always been like that, but people want to assume it's just like my real life. But there's a difference. The emotional component is very real and some of the stories are — more bits and pieces of stories are taken from my life, but none of it is exactly like my real life.
How do you draw that line? Let's say with the coffee shop scene from the "Sponsor" episode. How did you figure out what you wanted to pull into the show and what you wanted to leave out?
Maron: Well, I mean, that was really an event. That was a moment. That was a moment that sort of became the bookend of a callback at the end of the story. It's just a beat. That episode was really about me sponsoring a guy who just got out of prison. Now that never happened, but I've sponsored people who've been in recovery, but that was a fictionalization. But the emotions and the, sort of, backdrop of it are real to my life, but it never happened. So really the coffee thing was just a moment, that was just a one-joke thing, and we were able to call it back at the end, but it really wasn't the story. So to put that moment in wasn't really a problem, or a really big struggle to figure out what to put in a moment that really happened. And then at the end when he gives me the coffee, it just helped loop the story around, but it wasn't the story.
You said that people would like to think that you're the character on the show. Has that ever become an actual problem for you? Have people stopped you on the street or in public?
Maron: No, that happens all the time, and it's mostly because of the podcast and some people know me from the show, and that happens. It's nice to be recognized. I'll usually be polite and engaged for as long as possible, or say hello. I don't want to be rude, but yeah, that happens.
It seems like we have you, and then the Maron version of you, and you also have stuff you put into the podcast and stuff that you tackle with your standup. Do you have any way of blocking each of those off so they're separate from each other?
Maron: The TV show is shot for three months, it's written for three months, and then that's in the can. When I'm involved in that process, I'm fully immersed in that process. I'm shooting the show and I'm writing the show, I'm producing and directing and whatever else I do. And then once that's done, it's done. And then the stand-up is more of an act, and I always improvise in that act on stage, and I do that at night when I do stand-up so that's its own world. And then the podcast: I do interviews in the garage and I do the opening in the garage for the show. It's not that hard to separate, but there's definitely a different tone to all of them. They are slightly different versions of me…Obviously the TV show is scripted, and on the stand-up show I repeat myself a bit because that's what you do when you have an act, but I think the podcast is the most consistently spontaneous because I never know what I'm going to get when I talk to somebody and I really don't know what I'm going to say at the beginning of the show either. So that's the most consistently different in a way.
Watch a clip from Maron Season Three below:
video player loading
.
.
.
There can be a lot of opportunities to bring improv into a scripted series. Has that ever been the case with Maron, especially with the scenes where you are reenacting a podcast? Is there more spontaneity in Maron or is it mostly scripted?
Maron: No. I think that during the podcast segment that's where we improvise the most. A lot of the best moments of the podcast segments are improvised. I know where I want to go, but we do a lot of recording and a lot of pure improvised conversations. So there's a lot of room for improvising during that part of the show. The rest of the show is scripted, but there's still a lot of moments that happen that make it in that are not exactly…you know, there's a bit of improvisation, but it is a scripted show.
Can you think of a moment from season 2, or even season 3, where you were improvising and something magical happened spontaneously?
Maron: Oh yeah. Certainly in the first episode when I was talking to Elliott Gould, that was improvised. In the hospital, that scene, that had a lot of room in it 'cause it got pretty crazy. The second episode…there are some moments that you don't know how they're going to play out when you're having sex on camera. I think a couple of those moments might be improvised. Later in the season, towards the end…yeah, there's always going to be those moments that are definitely improvised.
At the end of season 2, we see Marc in a good place. We're finally starting to see him reflect more of where you are in your actual career. Now he's on his way to look for a talk show. Is his happiness, is that sustainable?
Maron: Uh, no. Not if you watch season 3. Season 3 gets a little crazy. It's sort of like the road less traveled for good reason. This season we take the character to a place where the real character has not been and we kind of put him through some things that thank God didn't happen. I think my way of me exploring it on the show will hopefully safeguard me from not having them happen.
---
How do you think Marc is going to grow in season 3?
Maron: It's hard to tell. I know what's gonna happen. I'm not sure he grows, but some shit definitely goes down and it gets pretty gnarly at the end. He's gonna have a whole new set of challenges if we come back for another season.
Can you talk a little bit about your hopes for season 3 even before you started filming, and if you achieved any of those hopes?
Maron: Well, I think that the idea was to always get good stories… Hold on a second, buddy. I'm bringing this stereo in.
[Marc talks to a store clerk about his problems with his amp. In typical Maron fashion, he wonders if he's the only one who notices the problem. ]
Maron: We departed a bit from…I just think, look, we made up a lot of stuff and we were really comfortable with the world and we knew what we were writing for and I think we got the funniest season we've done so far. You know, I can tell you that confidently. This one is definitely the funniest one. and that's just because, you know, we've been working — this is the third season, we should be comfortable with everything. And we take the character, like I said, into a place where I have never been. So there are a lot of things in this season that are like "what if?" I work through some stuff where in one episode I interview a character that is my ex-wife on the podcast. I never did that. It just sort of worked through some emotional stuff there. There's another episode with my dad and then, I don't even want to talk about the last couple of episodes because I don't want to spoil anything, but we're definitely taking the character in a place that is not my real life but it very easily could be my real life. I'd rather it not be my real life.
Are you directing any episodes in season 3?
Maron: Yeah, I directed the one about my ex-wife. It's called "Ex-Pod."
Can you talk about that process of going through the episode and both acting and directing yourself?
Maron: Well, I mean we did it towards the end and I was doing it along [with] my DP, my director of photography was also directing an episode. So we were directing simultaneously, and you get a playback monitor, and you go scene for scene, and then you watch it, and you reset it. I felt a lot more involved in directing this time then I did last time because I had the playback monitor and I was very engaged with getting it right. So it is a little taxing because I'm in every scene, but it's very exciting as well to be able to watch the process and make decisions on the set. But most of the excitement happens in editing, really putting this stuff together. Getting coverage is really what you're concerned with when shooting it, but the edit is really where things get interesting.
You mentioned guests. When you ask guests to come on your podcast, has there been anyone who's been wary about the fact that it takes place in your garage? Has anyone said no?
Maron: Well, I don't know. Once you're at my house they know what's going on. People have turned down the podcast for various reasons. I don't know that any of them are because it's in my garage, but no one has gotten in my house and said, this is bullshit and left. I think towards the beginning they were surprised of where it was and they weren't sure what they were getting into and that still happens occasionally, but no one has ever bailed because it was in my garage.
What about filming the podcast scene for the show?
Maron: The podcast on the show, we built a set that looks like my garage. and it does sort of play somewhat like the real thing. you know people come to my house and we go out back and we sit down and we do the conversation, but it's different. That's a set and my house is my house. So it's different. The TV is a representation of the podcast. It's fictional.
Were there any guests that you were hoping to get on season 3 that for whatever reason didn't happen?
Maron: Look, we reach out to a lot of people and there's people that I wanted on the show that for one reason or another couldn't get on the show and usually the reason is scheduling, you know? We shoot it at a certain taste, at a certain budget, and we're really talking about, you know, we need people in a one- or two-day window, maybe a three-day window and it's very specific. And if they're not available for that it doesn't happen. But there's always people I want to get on that didn't get on, but it's more of a scheduling issue.
For season 3, if you could pick one or two things, what are you most excited for viewers to see?
Maron: I just think the stories are great and I think the comedy is solid. I think it's the best season yet. I'm proud of it and what I want them to get out of it is I want them to enjoy it and think it's a great show. So hopefully that'll happen.
You've talked in the past about this new age of comedy we're in and the things that comedians have to do to adapt in order to make a livelihood for themselves in this industry. How have you seen yourself adapting to this new age of technology and podcasts and all these different formats?
Maron: I came to my podcast years ago and it was really out of desperation, and we committed to it and over time it worked out. I'm doing the best comedy I've ever done in my life right now in terms of keeping people aware of where I'm doing it, when I'm doing it, and keeping tabs with fans, primarily Twitter, and doing two podcasts a week. I just think the relationship you can have with people that are interested in what you do is a lot more immediate and possible now. And it's also necessary, you know, in order to promote yourself.
video player loading
.
.
.