10 Things We Learned About Kenan Thompson From His WTF With Marc Maron Episode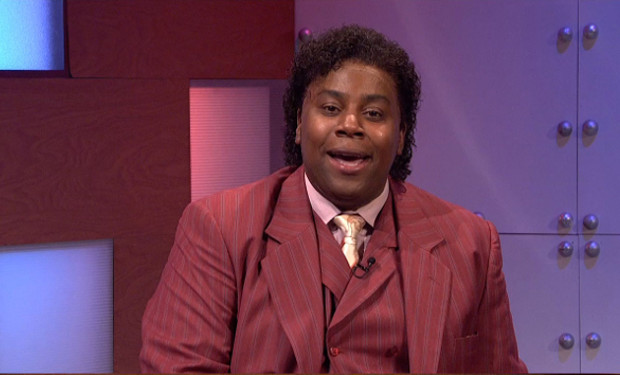 Posted by Brian Steele on
Kenan Thompson has grown into something of an institution over the last few years. Not only is he the longest tenured cast member on Saturday Night Live, he's also a familiar face to millennials the world over thanks to virtually growing up on Nickelodeon. He recently sat down with Marc Maron on the WTF Podcast, mere hours before an SNL pitch session, to discuss his life and career. Here are a few of the highlights in a career that encompasses everything from All That to "Live from New York!"
10. The Road to Good Burger Started Early
Kenan's parents pushed him into acting, along with sports, as a way to make something of himself and keep him off the streets. His mother even worked the phones at a local acting school so he and his brother could afford discounted classes. This eventually led to Kenan booking regional commercials, and a job reviewing movies for kids on a TV show. The first movie he reviewed was The Mighty Ducks. A year later he would find himself starring in the sequel. It truly was Knuckle Puck time for the young actor.
---
9. He Knows the Whereabouts of Kel Mitchell
His big break was getting cast in a series of Nickelodeon shows, movies and specials including All That, the titular Kenan & Kel, and the hit movie Good Burger. He moved to Orlando, where he spent his teen years working long hours with other Nick stars, including Amanda Bynes. When Marc asks about his comedy partner at the time, Kel Mitchell, Kenan says he's still out there auditioning, and that it's "a tough biz." While he doesn't go into the apparent feud Kel speaks of in the above video, it's safe to say you shouldn't be holding your breath for Good Burger 2.
---
8. Stand-Up Wasn't His Thing
Kenan told Marc that when he first got to LA, he didn't always fit in. He describes himself as a puppy, chasing around older black comedians. He would hit black comedy nights at the Improv, a famous standup joint, and watch established comics like Aries Spears and Mike Epps, but he never felt comfortable getting on stage. This was probably because the older comedians weren't exactly welcoming, wondering why a kid with his own TV show was hanging out backstage.
---
7. He Pulled Out His Al Sharpton Impression For His SNL Audition
Kenan's SNL audition could not have come at a better time. The few years between his child stardom and being a Not Ready for Primetime Player were tough ones. He was filming a small part in Barbershop 2 when he got the call to audition for Lorne Michaels. Adding even more pressure, Kenan was forced to perform a stand-up set not once, but twice, despite never having done it before. His act, consisting of a phone call between Al Sharpton and Arnold Schwarzenegger, bombed both times, but he still made it through. Kenan revealed that Kel Mitchell also auditioned in the same showcase but didn't make the cut. So did J.B. Smoove, who got hired at SNL as a writer.
---
6. His Early Seasons Were Rough
Kenan says when he first started at SNL, he had no idea how to write, or even form relationships with the writers. He was totally reliant on the occasional bit part popping up in a sketch that he was right for. He says that Finesse Mitchell, who he started with, had honed his voice in standup, and knew how to put a script together. Kenan was lost. There were numerous weeks he was left out of a show entirely, leading to screaming fests in his dressing room. He says the first sketch he tried to write was a mess. It was about a "babysitter doing some extra shit," and involved remote and live elements, which was a big no-no. When someone else finally wrote a sketch about a bellhop for him, he fumbled over a line, and tanked it. He says he now knows just to have fun and ad-lib, but back then he just froze.
---
5. He Wishes He Could do "What Up With That?" More Often

Kenan says that he wishes he could bring back What's Up With That? more often, but now that Bill Hader, Jason Sudeikis and Fred Armisen have left the show, too many of its elements are missing.
---
4. He Thinks Lorne Michaels Lives Large Like Dr. Evil
Kenan also tells Marc about Lorne Michaels' apartment, which he's visited a couple of times on the way to Yankees games. He says it's massive, with a private elevator, and that Lorne's bud Paul Simon lives across the hall. They even share a backdoor.
---
3. He Wonders What's Up With Eddie Murphy?
Kenan says that he avoided talking too much with Eddie Murphy at the SNL 40th reunion, because he didn't want to ruin his childhood in the event that Eddie acted like a jerk. It took Rush Hour director Brett Ratner, of all people, to make an introduction, as Eddie was rushing by. Kenan and Marc also puzzled over Murphy's seemingly conscious choice to stop being funny, while still acknowledging that he had the power to blow the roof of the joint at any moment. Kenan also noted that Eddie seemed like he didn't want to do anything for the reunion, but the Cosby bit that ended up going to Kenan was a particular problem. Murphy was offered the part, but said he didn't want to kick a man while he was down.
---
2. He Feels He Was Misquoted About the Lack of Black Women on SNL
Kenan also got into the thorny issue of black female cast members on SNL, a subject that got him into trouble when he talked about it to the press. He says he was misquoted at the time, and attempted to clarify that he didn't mean to say that the black women the show auditioned in the past weren't ready for SNL. He noted that talented black female performers usually had their own thing going on by the time the auditions came along. Also, SNL is a particularly hard show to get cast on, because you "have to be at the top of a lot of different games." He says he loves all the black cast members now, female or otherwise. In particular, he describes Leslie Jones as one of his best friends.
---
1. He's Not Leaving SNL Any Time Soon

Kenan also clarifies the rumors that have been flying around the Interwebs about him leaving the show. He has no intention of going anywhere, and doesn't know where they started. In fact, when he first heard reports that he was done at the end of the year, he was worried there was something going on he didn't know about. He cites Keenen Ivory Wayans, who apparently once showed up to his own talk show, not knowing he had been fired. As far as Kenan is concerned, he will be back next season. Does that mean we'll see the return of Sump'n Claus?