Maron Season 3 Starts Thurs, May 14 at 10p. We Good?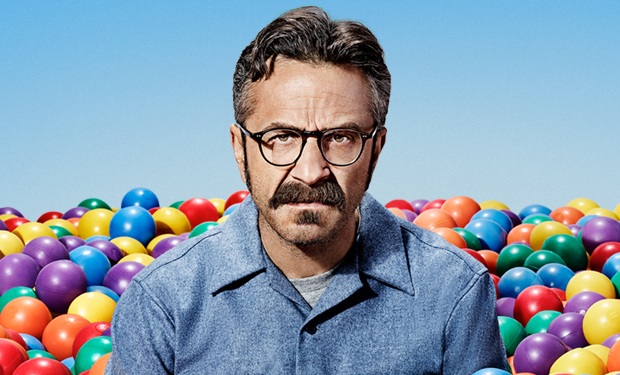 Posted by FIX Staff on
Marc Maron is fighting new issues this season, but will he be able to get out of his own head and evolve out of "adultescence"? Watch as he tries to work it out in season three of Maron. Back with 13 new half-hour episodes, the series stars comedian, writer and host of the popular WTF podcast, Marc Maron. Season three premieres Thurs, May 14 at 10p on IFC.
This season, the stakes have never been higher for Marc as he attempts to keep it together while trying to launch a new talk show, help a friend father a child (while avoiding his own dad) and salvage the relationships he actually has left. Marc's future is uncertain as he tries to take his life to the next level while facing down old demons.
"Marc is broadening his horizons this season with new awkward situations and more people to piss off," said Jennifer Caserta, IFC's president. "He's an equal opportunity offender and it makes for good times, at least for viewers."
video player loading
.
.
.
Returning this season are Judd Hirsch (Ordinary People, Damages, This Must Be the Place) as Marc's unstable father; Sally Kellerman (MASH, Back to School, Workaholics) as his meddling mother; Troy Ruptash (Firsts, Prison Break) as his fragile brother; Andy Kindler (Bob's Burgers, Everybody Loves Raymond) as his voice of reason; and Dave Anthony (Walking The Room podcast) as his devil's advocate and his trusty punching bag assistant, Kyle.
Guest stars visiting Maron in and out of the garage this season include Steve Agee (The Sarah Silverman Program, New Girl), Maria Bamford (Arrested Development, The Comedians of Comedy), Lisa Brenner (We Are Angels, The Price of Happiness), Bruce Bruce (Bruce Bruce: Losin' It, Top Five), Whitney Cummings (2 Broke Girls, Whitney), Lucy Davis (Studio 60 on the Sunset Strip), Andy Dick (The B-List), Dr. Drew Pinsky (Dr. Drew On Call, Loveline), Cameron Esposito (Same Sex Symbol, Put Your Hands Together), Nelson Franklin (The Millers, Veep), Adam Goldberg (Fargo), Elliot Gould (Ray Donovan, Ocean's Eleven), Ken Marino (Wet Hot American Summer: First Day of Camp, Marry Me), Patton Oswalt (The Goldbergs, Agents of S.H.I.E.L.D.), Eddie Pepitone (The Bitter Buddha, Your Pretty Face is Going to Hell), Mary Lynn Rajskub (24: Live Another Day, 2 Broke Girls), Alex Rocco (The Godfather, Magic City), Andrea Rosen (Episodes), Vik Sahay (Chuck), Sam Seder (Bob's Burger's), Rick Shapiro (Project X, Lucky Louie), Ryan Singer (Comedy Wonder Town), Kurtwood Smith (Resurrection, That '70s Show), Constance Zimmer (House of Cards, Entourage) and professional wrestlers Colt Cabana and CM Punk.