5 Vinyls Marc Maron Is Listening to Right Now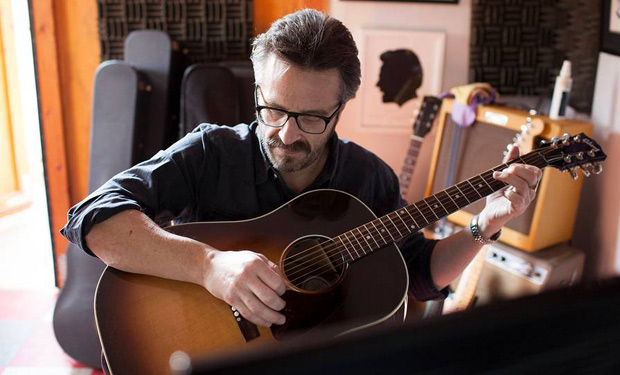 Posted by FIX Staff on
This Saturday is Record Store Day, the perfect opportunity to get out of the house and pick up some new music. For some suggestions, we turned to noted vinyl enthusiast Marc Maron, who shot us back a list – and descriptions – of records he's listening to right now. Check them out below.
5. Mothers of Invention – Cruising with Ruben and the Jets
This is really early Zappa. I have been trying to understand the whole Zappa thing on and off since I was in high school. I figure the best way to get into to someone's work is start at the beginning. This the fourth album. It sounds like a fuck you to Phil Spector to me. Love it.

---
4. Tony McPhee – The Two Sides of Tony (T.J.) McPhee
This is the guitar player of The Groundhogs who are a British hard rock band that have been around forever. This is a record nerd record. The guy at the record store turned me on to the band and then to this. This album is a trip. Straight up blues on one side and weird pre-synth synth music on the other. Pretty groovy record if you can find it.

---
3. Spiritualized – Ladies and Gentlemen We Are Floating Through Space
I love the band Spaceman 3 and this is that guy's other thing. Brendon Walsh turned me on to them. He actually bought me the vinyl for which I am eternally grateful. Great psychedelic vibe and groove. Unique. You can go places listening to this.

---
2. Tommy Tedesco – When Do We Start
I recently interviewed Denny Tedesco about his documentary The Wrecking Crew< about the studio musicians that drove the record industry from the 50s through the late 60s. His father was a seminal studio guitar player with that bunch and this is his self produced record that Denny sent me. I love it. Jazzy.

---
1. Mark Mulcahy – Dear Mark J. Mulcahy
This guy sent me his record and it is one of the best records I've listened to all year. He's a songwriter guy but he means it and the stuff is tight. Great musicians on the album as well. Good shit.