Maron Returns May 8 with an Epic List of Guest Stars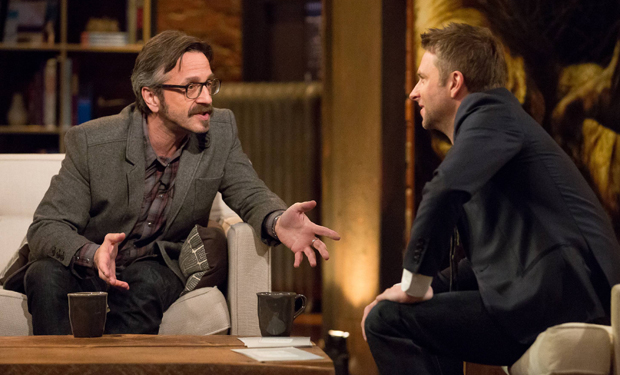 Posted by Melissa Locker on
Marc Maron is coming back to IFC soon and he's bringing some of his friends and all of his problems with him.
The second season of Maron, which kicks off May 8 at 10:00 pm ET/PT, follows the comedian and WTF podcast host as he makes misguided attempts at personal growth, while frequently finding himself asking, "We good?" This season he's bringing more of his friends all along for the ride, including:
Bill Burr (Breaking Bad, The Heat), Wyatt Cenac (The Daily Show with Jon Stewart), David Cross (Arrested Development, The Increasingly Poor Decisions of Todd Margaret), Joey "Coco" Diaz (Grudge Match, Brooklyn Nine-Nine), Paul Feig (Director of The Heat and Bridesmaids, Creator of Freak and Geeks), Chris Hardwick (Talking Dead, @midnight), Rachael Harris (The Hangover), Michael Ian Black (The State, Burning Love), Moshe Kasher (Moshe Kasher: Live in Oakland), Tom Kenny (Voice of SpongeBob SquarePants, Adventure Time), Johnny Knoxville (Jackass Presents: Bad Grandpa), Dave Koechner (Anchorman 2: The Legend Continues), Tig Notaro (Professor Blastoff podcast, comedy album Live), Conan O'Brien (Conan), Jimmy Pardo (Never Not Funny podcast), Eddie Pepitone (The Bitter Buddha, Your Pretty Face is Going to Hell), Caroline Rhea (Sabrina, the Teenage Witch, Phineas and Ferb), Andy Richter (Conan), Richard Riehle (Mob City, The Mindy Project), Rob Riggle (21 Jump Street, The Daily Show with Jon Stewart), Ray Romano (Parenthood, Everybody Loves Raymond), Sarah Silverman (Wreck-It Ralph, The Sarah Silverman Program), Nora Zehetner (Mad Men, Grey's Anatomy) and many more.
Plus Judd Hirsch returns as Marc's scheming father, Sally Kellerman as his passive aggressive and self‐absorbed mother, Andy Kindler (Bob's Burgers) as his close friend and Josh Brener (The Internship, Silicon Valley) as his overly eager assistant.
It's all happening in the 13 episodes of this season on Maron.
Want the latest news on Maron? Like the show on Facebook and follow us on Twitter@MaronIFC