Radiohead's Thom Yorke Stopped by Marc Maron's WTF Podcast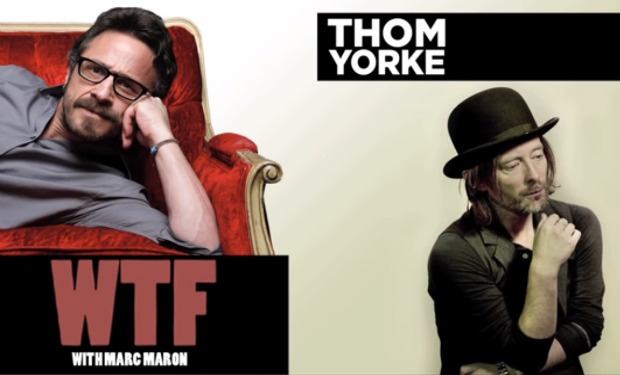 Posted by Melissa Locker on
This week's WTF podcast featured Radiohead frontman Thom Yorke. Yorke met up with Marc Maron (who's show is coming back to IFC for an extended second season) met up at The Mansion, Rick Rubin's fabled recording studio in Laurel Canyon, while Yorke was working on his Atoms for Peace album, Amok.
In typical wide-ranging WTF fashion, the 44-year old Radiohead star spoke extensively with Marc, touching on a number of topics, covering everything from teenage political arguments with his father to the recording of the Atoms for Peace albums and how he misses writing hooks. They talk about the evolution of the band, as well as Thom's solo projects and collaborations with other musicians. Plus, Thom reveals his most important influences (a blend of Queen, R.E.M., Siousxie and the Banshees, Joy Division, and Bob Dylan) and explains why he gets so much pleasure out of noise.
Listen here and subscribe to WTF already.
Watch a sneak peek here:
One of the many things we learned about Yorke during the podcast is that he's been screwing around with us for a long time. Marc suggested as an artist, Yorke has a problem with expectation. Yorke agreed: "One of the things I really enjoy is kind of messing with people's heads a bit," he laughed. "You do one thing, and then you're like, 'Okay, this is really gonna fuck 'em up!' So keep that in mind while you watch Thom York dancing in this Atoms for Peace video and remember that in the podcast that "actually, this Atoms for Peace record was not that hard [to make]." :
Want the latest news on "Maron"? Like the show on Facebook and follow us on Twitter@MaronIFC