Aubrey Plaza Makes Kyle Nervous on "Maron"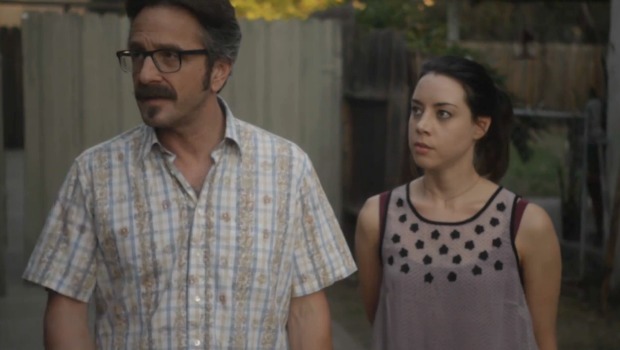 Posted by Melissa Locker on
On this Friday's episode of "Maron," Parks and Recreation star Aubrey Plaza stops by and for Marc's assistant, Kyle, it can't end quickly enough. Or last long enough. Both, probably. You see, Aubrey is Kyle's all-time favorite actress and, in his humble opinion, no one else in the cast of "Parks and Recreation" compares. So when she stops by Marc's garage to record an episode of theWTF podcast, Kyle pretty much loses it, much to Marc's embarrassment.
Before Aubrey was a guest star on "Maron," though, she was a guest on Marc's WTF podcast where the "Parks and Recreation" star talked about stalking Fred Armisen, hiding from Judd Apatow and Seth Rogen, and living in Astoria, Queens. In the middle of their conversation, though, the subject turned from joke serious to truly serious as Aubrey opened up about having a stroke when she was just 20 years old. Aubrey had never talked about the subject publicly before and it was one of those moments that happens during Marc's podcast when he gets people to open up in a way that surprises everyone involved. Definitely worth a listen.
Watch now and then tune in for a new episode of "Maron" on Friday at 10/9c:
video player loading
.
.
.
Want the latest news on "Maron"? Like the show on Facebook and follow us on Twitter@MaronIFC
"Maron" airs on IFC on Fridays at 10/9c