What to watch on IFC tonight: A new episode of "Maron" at 10/9c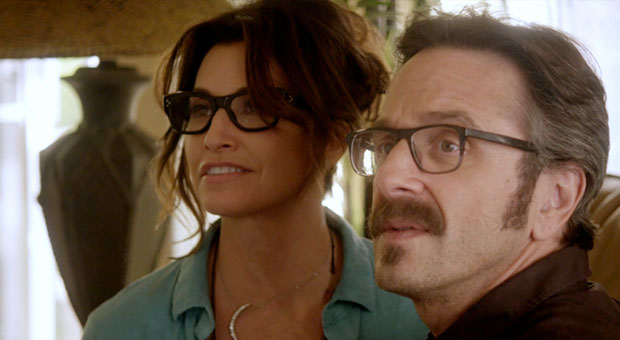 Posted by Melissa Locker on
Last week on "Maron," Illeana Douglas had a question for Marc Maron, "Marc, I know that it's fun to be depressed, but when was the last time you were on a real date?" It's a puzzler for Marc, because he is more likely to sift through his fawning fan mail and find a nice lady who already knows his foibles and issues to hook up with. So Illeana set him up with Megan, a nice, stable friend. The entire date is derailed though when Justine, a dominatrix, catches Marc's eye. Illeana does not approve. She is critical of Marc's dating choices and she tells him that Megan is a real person while Justine is a tramp who Marc can't possibly have a future with. Considering their relationship ended with Justine shouting, "I just screwed your father, ya rotten prick!" Illeana was probably right.
This week after Marc does some soul searching he realizes that he is tired of dating younger women, Marc decides to date an age-appropriate woman he meets at a coffee shop (Gina Gershon). She's smart and sexy, but things go south when she puts Marc in the hot seat by having him interviewed on her son's podcast. Turns out her son is a mini Marc with neuroses intact and when Marc is a guest on the kid's "The Malcontentment Hour" things go from bad to worse. Mark Duplass also guest stars.
Watch a clip now and then tune in to "Maron" tonight at 10/9c:
video player loading
.
.
.
Want the latest news on "Maron"? Like the show on Facebook and follow us on Twitter@MaronIFC
"Maron" airs on IFC on Fridays at 10/9c