Watch Kyle's brilliant movie idea on "Maron," airing tonight at 10/9c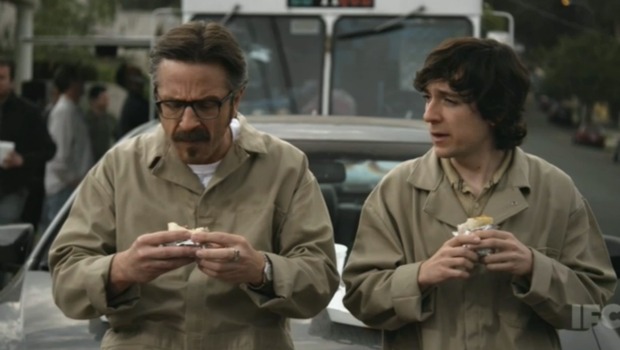 Posted by Melissa Locker on
Last Friday, after months of anticipation, we finally premiered Marc Maron's brand new scripted comedy, the aptly named "Maron." In the premiere episode, we met Marc, a down-and-out comic who starts podcasting out of his garage to try and pick himself up and start over. Does that sound familiar? It should, it's all based on Marc's life and his now popular WTF podcast. Each half hour episode chronicles Marc's day-to-day struggle to maintain relationships other than the ones with his podcast audience and his beloved trio of cats.
Because we're impatient to see what's next – and because we like instant gratification – we're already clamoring for more. In this sneak peek of the next episode, which will air Friday at 10/9c, Marc's mom (Sally Kellerman) forces him to meet up with a distant family friend Kyle (Josh Brener), who is considering a career in comedy. When Marc agrees to meet with him, well, strongarmed into meeting him, but the result is the same. Kyle has a bunch of ideas that he hopes to write, direct, and produce on his own, you know, like Apatow, before he got shitty. Movie ideas like an underwater, CGI-filled Will Ferrell comedy. Long story short: Meet Marc's new assistant Kyle.
Watch this sneak peek clip and then tune in on Friday for an all new episode of "Maron" at 10/9c:
video player loading
.
.
.
Want the latest news on "Maron"? Like the show on Facebook and follow us on Twitter@MaronIFC
"Maron" premieres on IFC on Friday, May 3 at 10/9c