Watch Judd Hirsch, Andy Kindler and Marc Maron in a new clip from "Maron"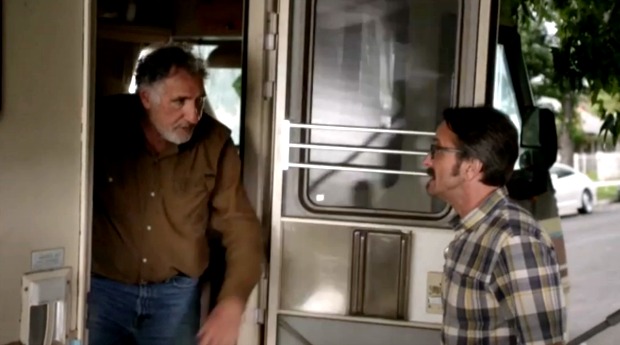 Posted by Melissa Locker on
In this clip from last week's episode of "Maron," we met Marc Maron's dad Larry, played by television legend Judd Hirsch. The onetime doctor was stripped of his medical license and is now peddling a vitamin supplement called "Maron's Mix" that promises not only five hours of energy but also 72 hours of erection. He wants Marc to shill the drugs all over LA as his West Coast rep, because obviously Marc's comedy career isn't going anywhere. Especially if Larry keeps interrupting all of Marc's podcasts to try and sell vitamins to the podcast guests like Jeff Garlin. In this clip, Andy Kindler, who you may recognized from "Everybody Loves Raymond" and the judges' table on "Last Comic Standing," plays Marc's gym buddy who is conscripted to duty when Larry shows up in an RV and starts disturbing the neighborhood immediately. Luckily Kindler is there to entertain the gawkers who assembled to witness Maron's dad's ruckus.
Watch now and tune in on Friday for a new episode of "Maron" with guest stars Ileana Douglas at 10/9c:
video player loading
.
.
.
Want the latest news on "Maron"? Like the show on Facebook and follow us on Twitter@MaronIFC
"Maron" airs on IFC on Fridays at 10/9c