Marc Maron talked to the LA Times and Wall Street Journal and Mashable about "Maron"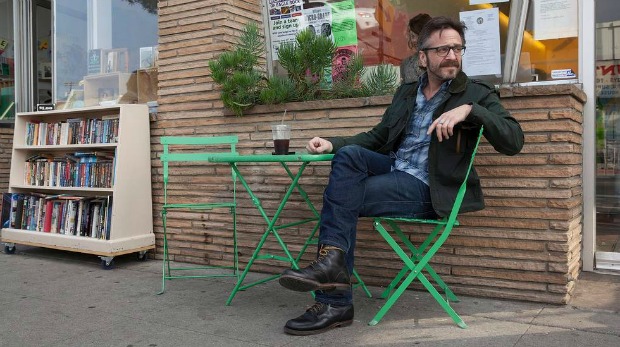 Posted by Melissa Locker on
"I had to warn my Twitter followers, 'Prepare yourselves for a barrage of tweets promoting my new show and book. We'll get through this together," Marc Maron told Mashable. You see, Marc is doing his part to help promote his new show "Maron," which premieres on IFC on Friday, May 3 at 10/9c. (That's THIS Friday for those keeping track.) That means tweeting about the show and doing a round of press, including talking to Mashable, LA Times and the Wall Street Journal. Not that Marc minds talking about himself or tweeting. He told Mashable: "We have no other outlet," he said, referring to social media. "Unless you are so huge, you have to fend for yourself out there. How will people know what you are doing unless you have a presence and are out there." The article continued, "At the same time, Maron also has to deal with how to spend his time on social. "I tend to get off on [Twitter] in almost a druggish way. Jamming on Twitter and getting into a Twitter hole can be really satisfying." If you're not following Marc (@MarcMaron@MarcMaron) on Twitter yet, you should start now. It's the gift that keeps on giving, especially when Marc is on an airplane.
At the Wall St. Journal, Marc explained how low he felt he had sunk in his career before things turned around: "I had suicidal ideations," he said. "It was a dark time. Going broke and being drained by a vicious divorce. You don't always know that you're going to recover from heartbreak or financial devastation. Also, my career was atrophied. Mentally I was in a bad place. I hadn't bought a gun or made any big plans, but in my mind, I was, 'Well, that's probably how this is gonna go.' " But it didn't go that way at all. Instead, things started to turn around when he started his WTF podcast out of his garage back in 2009. As WSJ explained: "Early in the first episode, he promised he'd "keep it as personal as possible." Listeners soon knew intimate details about Mr. Maron's ex-wives (Kim and Mishna), his trips to the urologist, his past cocaine addiction and more than anyone bargained for about his cats (Monkey, Boomer and LaFonda)," the WSJ wrote. Listeners responded and Maron has recorded almost 400 episodes of "WTF" with about 2.5 million downloads a month, with advertisers and paying subscribers. Random House is publishing Marc's memoir, "Attempting Normal," and on May 3, the scripted sitcom "Maron," premieres in which the comic plays a neurotic and bitter comedian who podcasts out of his garage. According to the WSJ: "The show is in the tradition of comedians playing pricklier versions of themselves, as pioneered by Jerry Seinfeld, made extra-awkward by Larry David and given heart by Louis C.K. In one episode, comedian Denis Leary, as himself, berates Mr. Maron for being a wimp who's afraid to remove a dead possum that's beneath his house." By the way, you can watch that episode right here, right now.
Over at the Los Angeles Times, the reporter visited the set of "Maron" on the final day of shooting. Once again Marc expressed surprise that his career came out of what he considered a slump. "I really thought this wasn't gonna happen for me. It's all pretty astounding," he says. "Of course I have a certain amount of dread and anxiety. It feels like this is definitely my shot."
The LA Times also spoke with Denis Leary, who is a guest star and co-executive porducer on the series: "Marc's at this place, personally and professionally, where his bitterness and his rage has subsided enough that he's able to play it," says Denis Leary. "The reason it got picked up is because of Marc's performance. It's honest and heartbreaking and weird — and unbelievably funny." Marc worked hard to have that effect on his audience. "I wanted to do the best I could with the acting," Maron told the LA Times, "because everyone's always skeptical about comics acting. I wanna look at the show and say: 'How can we tell the story in a deeper and funnier way?'" To see if he pulled it off, tune in to "Maron" on Friday, May 3 at 10/9c. Spoiler alert: He did.
Want the latest news on "Maron"? Like the show on Facebook and follow us on Twitter@MaronIFC
"Maron" premieres on IFC on Friday, May 3 at 10/9c