Watch "Maron in Space" with James Adomian as Marc Maron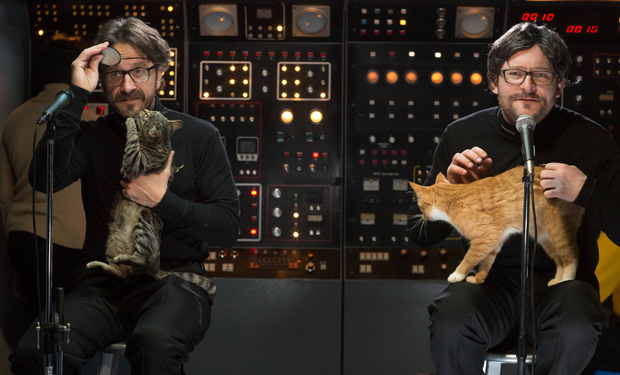 Posted by Melissa Locker on
Once upon a time in a galaxy far, far away, a comedian and podcaster takes the helm of a spaceship to boldly go where no man has gone before –- into the mind of Marc Maron.
Have you ever wondered what Marc Maron would be like as the leader of the Starship Enterprise? Well comedian James Adomian has. "Marc Maron has such a hilariously comedic voice that I figured if I was going to do an impression of him, the only way to really get inside his head was to put him in outer space" said Adomian. Now Adomian is sharing his hilarious vision and uncanny impersonation with IFC in a new series produced by Funny or Die, called "Maron in Space" Our new five-part webseries stars James Adomian playing Marc Maron as the captain of the Starship Maroner, which, of course, is a ship shaped like a giant microphone. What else would Captain Maron command? In the series, Adomian as Maron commands his crew (and cats) through space while mapping uncharted planets and coming under attack from enemy ship, "The Hive." The last webisode builds to the ultimate face off with his evil counterpart, played by a mystery guest who fans of WTF will want to see.
All five webisodes of "Maron In Space" are available right here. The webseries is created and written by Adomian and comedian John Roy and directed by Chris VanArtsdalen and Jefferson Dutton, two of the players in the comedy group, The Birthday Boys, whose own sketch series will premiere on IFC later this year.
As you probably guessed, we think "Maron In Space" is the perfect lead up to the debut of "Maron," our new scripted comedy based on the life of Marc Maron, which premiers on Friday, May 3 at 10 pm ET/PT.
Watch the first episode of "Maron in Space" now:
video player loading
.
.
.
Want the latest news on "Maron"? Like the show on Facebook and follow us on Twitter@IFC
"Maron" premieres on IFC on Friday, May 3 at 10/9c