Watch Marc Maron discuss Aubrey Plaza on "Maron"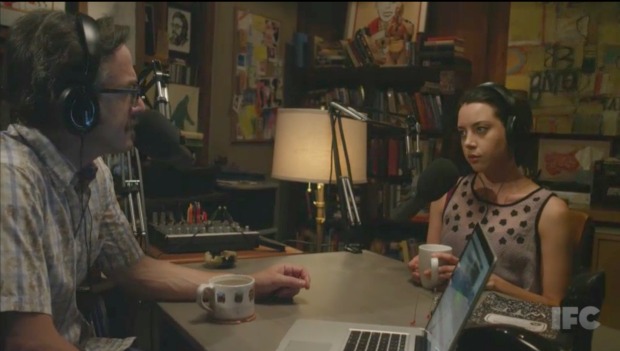 Posted by Melissa Locker on
Back in 2011, Marc Maron interviewed Parks & Recreation star Aubrey Plaza for his WTF podcast. On the show Aubrey talked about the serious stalking of Portlandia's Fred Armisen and hiding from Judd Apatow and Seth Rogen. But then in the middle of the conversation, the subject turned from joke serious to truly serious as Aubrey opened up about having a stroke when she was just 20 years old. Aubrey had never talked about the subject publicly before and it was one of those moments that happens during Marc's podcast when he gets people to open up in a way that surprises everyone involved. It was one of those conversations that really sticks in your memory and is part of the reason why people love Marc's podcast so much. You truly never know what is going to happen when you tune in to WTF. You can watch/listen to part of their conversation here:
Fast forward a few years and Marc is preparing for his semi-autobiographical show "Maron" and since much like in real life, he hosts a podcast in his garage on his television show, he needs real guests to appear on his fictional podcast. Enter Aubrey Plaza who went from being a real podcast guest to being a television podcast guest. Watch as Marc Maron describes working with Aubrey Plaza on "Maron" and then tune in for the premiere on Friday May 3 at 10/9c. You know you want to:
video player loading
.
.
.
Want the latest news on "Maron"? Like the show on Facebook and follow us on Twitter@IFC
"Maron" premieres on IFC on Friday, May 3 at 10/9c