10 Documentary Now! Facts From Fred Armisen, Seth Meyers and Bill Hader
Watch the full panel and get a sneak peek of season two.
Posted by Mike Schuster on
Production is well underway for the second season of Documentary Now!, and fans are clamoring for more episodes of the acclaimed show.
But while we wait for the next season to premiere, we do have some extra Doc Now! content to share. Co-creators Fred Armisen, Bill Hader, and Seth Meyers assembled for a live "For Your Consideration" event for Emmy voters where they offered a behind-the-scenes look at the series.
Check out the full video of the event below as well as 10 things we learned from the Documentary Now! live panel.
1. Why haven't they done The Jinx or Making a Murderer?

HBO
Seth mentioned how they're often approached by folks wondering if Doc Now! had planned on tackling HBO documentary series The Jinx or Netflix's Making a Murderer. As he explains, those longer series that trace an entire crime case would be tough to capture in one episode. "It's hard enough boiling down a two-hour documentary to 20 minutes," Seth said.
---
2. "Host" Helen Mirren immediately got the joke and played her part straight.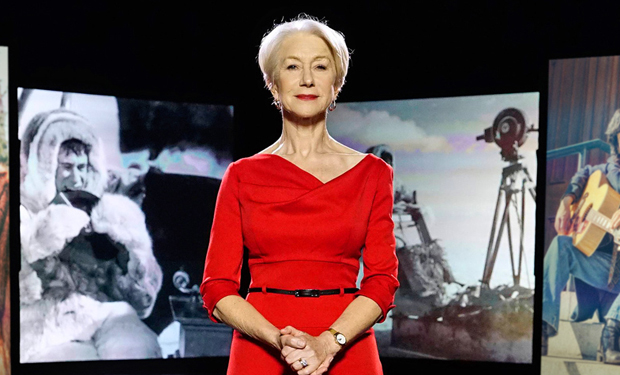 At the top of each episode, host Dame Helen Mirren sets the tone for the dramatic, real-life stories about to unfold. Of course, the pure silliness that results is perfectly juxtaposed by the gravitas that Ms. Mirren brings to the table — something she immediately understood. Bill and Seth remarked that it's rare for an actor to approach a comedy scene without wanting to add zaniness. But Helen had the "perfect tone," according to Bill and Seth, right from the start.
---
3. Bill's fall through the floor in "Sandy Passage" was improvised practically on the spot.
While shooting Little Vivvy's tour of the mansion, Bill thought it'd be funny if his character fell through the floor and the directors agreed. And what would seem like a stunt with lengthy prep time was achieved with Bill's pratfall and some spliced takes. As Seth remarked, the hardest part about the shot was Bill's overzealous impression of suffering a concussion — an act he had to tone down because even the boom mic guy couldn't stop laughing.
---
4. The directors got the actual camera lenses from "The Thin Blue Line" (and by coincidence, the same courtroom artist).
Fred, Bill, and Seth were effusive with their praise for Doc Now! directors Rhys Thomas and Alexander Buono and their incredible job at mimicking the style of multiple documentaries. Turns out, the directing duo's hardcore dedication to their craft led them to use the actual camera lenses from Grey Gardens and The Thin Blue Line to achieve a more authentic style for "Sandy Passage" and "The Eye Doesn't Lie." And during the latter's production, the courtroom artist they acquired coincidentally was the same artist from The Thin Blue Line. After praising his artistic skills in replicating the original's look, Bill said the artist replied, "Y'know I did this on Thin Blue Line?"
---
5. Raccoons are terrible to work with.
For the wildlife-infested abode in "Sandy Passage," animal wranglers brought in a raccoon, which proved to be more problematic than you'd expect. Cast and crew had to wait for the right moment until the raccoon was "ready" to perform. However, Seth said one of his favorite moments of the shoot was the email he received which read, "How important is the raccoon? Because a raccoon isn't cheap. Would you be okay with a possum?"
---
6. Filming Season 2 has been treacherous.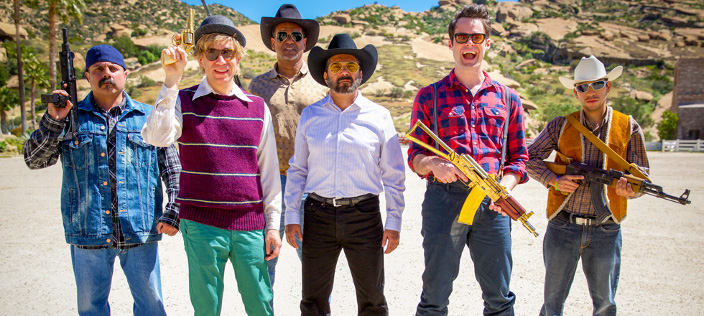 Fred went down to Columbia to film "Juan Loves Rice and Chicken," Documentary Now!'s upcoming take on the acclaimed "foodie" doc Jiro Dreams of Sushi. After filming on top of a mountain, Fred and another member of the crew were driven down a windy road by a particularly sleepy driver. As if that wasn't scary enough, Fred said the show's art director was bitten by a scorpion! Never let it be said that the Doc Now! cast and crew isn't dedicated to their jobs.
---
7. Bill Hader's President of Hollywood character inspired a Season Two episode.
One of the documentaries being spoofed for season two is The Kid Stays in the Picture, which recounts the ups-and-downs of legendary Godfather producer Robert Evans. In addition to Evans, Hader explained that his "President of Hollywood" character (a memorable presence at the recent Comedy Central Roast of James Franco) was also an inspiration for the aging producer he plays in season two's Hollywood doc "Mr. Runner Up." 
---
8. The head of Vice loves the Dronez episode.
According to the gang, Vice co-founder Shane Smith was totally on board with the show's parody of his Millennial-targeting news organization. Fred also noted that it was difficult for the directors to get the "on the fly" look of Vice news documentaries.
---
9. The Blue Jean Committee is based in part on The Eagles.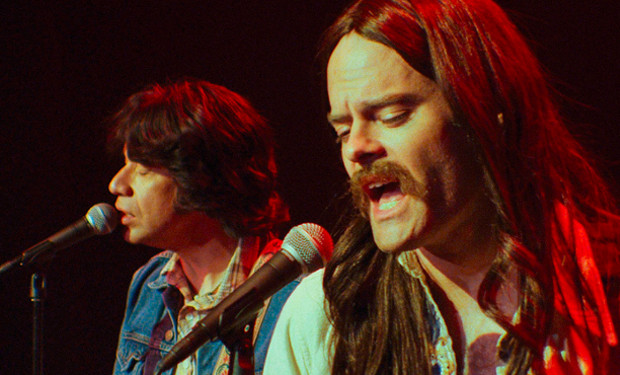 Fred, Seth, and Bill expressed their love for the 2013 History of the Eagles documentary, an in-depth look at the California rock band that Hader described as being about "tough guys playing p—y music." Bill and Seth noted that the Blue Jean Committee episode was a way for Fred to write some original music, which he will also do for a season two episode. And sorry to break it to you, but that isn't Hader hitting the high falsetto notes: Bill's pipes were provided by musician and violinist Petra Haden.
---
10. They'd like to do sports documentaries, but they're a challenge.

ESPN Go
Seth said they have been asked if the show would ever parody sports docs, but he noted that the team likes to focus on smaller, slice-of-life stories and capturing a sporting event with hundreds of fans could prove difficult.
Watch the full Documentary Now! panel below to hear Bill and Fred doing an impression of Obama visiting LA, the group's thoughts on the season two episode "Globesmen" and much more!