The Best Bits From Sketch Comedy Anthology Movies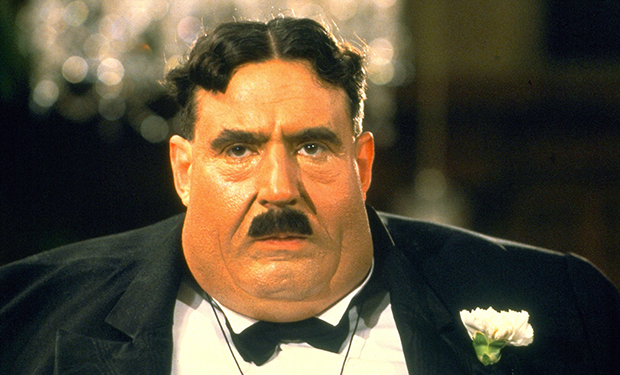 Posted by Kevin Maher on
Anthology comedy movies are hit-and-miss. Some jokes were edgy when they first played, but even the funniest ideas don't always age well. To get you ready for Documentary Now!, IFC's research team has plunged into the history of anthology comedy movies in search of the most memorable sketches committed to film. And since many of these films are raunchy, you should note that some sketches are NSFW.
1. Monty Python's The Meaning of Life (1983) – "Mr. Creosote"
It might seem obvious to include this movie and this scene, but can anyone not think of this scene when you hear the words "wafer thin mint"? If you're a comedy nerd, you might've memorized the Python movies and have forgotten how disgusting and delightful this sketch was the first time you saw it. So do yourself a favor and show it to someone who's never seen it. Go ahead, we'll be here when you get back. (Also, we're not counting And Now For Something Completely Different since those sketches started on TV.)
---
2. Mr. Mike's Mondo Video (1979) – "Laser Bra 2000"
The Saturday Night Live movie never got made. But we did get this bizarre short-form feature from SNL first head writer Michael O'Donoghue. O'Donoghue had left the show with Chevy Chase, to write feature films. In 1979 he reunited with Lorne Michaels to write and direct a comedy special to replace SNL during the summer. NBC deemed the series too raunchy for television (as well as being poorly lit). Mondo Video was released in theaters and became an overnight bomb. This parody of the "Mondo" documentaries featured cameo appearances by Bill Murray, Carrie Fisher, Sid Vicious and Debbie Harry. Years later, the highlight is "Laser Bra 2000," wherein Mr. Mike shares rare footage of an experimental military weapon.
---
3. The Ten (2007) – "Lying Rhino"
David Wain's sketch movie based on the Ten Commandments has an excellent ensemble cast (Paul Rudd, Justin Theroux, Jon Hamm, Winona Ryder and members of The State). But the standout sequence is "Lying Rhino." For one thing, in the live-action movie, this is the cartoon segment — animated by Augenblick Studios (makers of cult favorites like the Wonder Showzen cartoons and Ugly Americans). For another thing, it stars Jon Benjamin of Archer and Bob Burger's fame. Lastly, there's a deadly wiener-dog sex orgy.
---
4. A Guide to the Married Man (1967) – "Deny Everything"
Gene Kelly directed this very '60s comedy where Walter Matthau learns how to cheat on his wife. (The infidelity-comedy subgenre doesn't get made much anymore. The last of its kind might be Warren Beatty's 2001 film Town & Country). The episodic lessons-in-cheating include examples of infidelity from Carl Reiner, Phil Silvers, Jayne Mansfield, Lucille Ball and Sid Caesar. One of the most memorable bits features Joey Bishop as a man who refuses to admit he's having an affair. Comedy nerds might view this as a precursor to the Monty Python dead parrot sketch, but YouTube commenters associate it with Obama and/or Bush.
---
5. Dynamite Chicken (1971) – Richard Pryor walk and talk
Dynamite Chicken is just as much a time capsule as it is a feature film. The free-form parade of sketches and musical interludes includes appearances by Fred Willard, John Lennon, Al Goldstein, Joan Baez and Paul Krassner. (Feel free to Google the names you don't recognize.) There's even a dramatization of a Lenny Bruce routine starring a Lyndon Johnson impersonator. But the film is best remembered for Richard Pryor's participation, probably because Pryor was on the poster –- despite the fact that he only has 10 minutes of screen time. In 1982, the comic sued to stop the film from being re-released. None of Pryor's Dynamite Chicken scenes are online, so here's a video that typifies the film's spirit – a pair of poems by Allen Ginsberg and Leonard Cohen, with music by Jimi Hendrix.
---
6. Tunnel Vision (1976) – "Get Head"
1970s sketch comedy movies loved to lampoon lame network television by adding nudity, drug use and coarse language. (The kind of stuff those squares would never show on the idiot box, man!) Tunnel Vision showcases predictably "far-out" game shows and grotesque commercial parodies, but this one was directed by Neal Israel, who spent the '80s writing decade-defining comedies like Police Academy, Bachelor Party and Real Genius. One notable sketch sees policeman John Candy partnered with a severed head. Was this the inspiration for In Living Color's "Head Detective"? We'll let the comedy nerds argue it out in the comments section. Note: The Tunnel Vision trailer was narrated by Paul Thomas Anderson's dad, Ernie Anderson – who was the announcer for ABC television.
---
7. Chillerama (2011) – "Wadzilla"
This anthology of goofy grindhouse films includes comic vignettes like "The Diary of Anne Frankenstein," but the most vivid spoof is the raunchy "Wadzilla." Director Adam Rifkin (Detroit Rock City) tells the story of a man whose semen grows to gargantuan proportions and becomes a kaiju monster.
---
8. Kentucky Fried Movie (1977) – "Scott Free"
Before making Airplane! and The Naked Gun movies, Zucker-Abrahams-Zucker performed live sketch comedy in Madison, Wisconsin as "Kentucky Fried Theater." John Landis directed their first film, called Kentucky Fried Movie. (An early title for the film was Closed for Remodeling. Ha ha.) The film stands out because instead of populating the bits with go-to improv comics like Howard Hesseman and Gerrit Graham, they enlisted actors not necessarily known for comedy, including Bill Bixby, Donald Sutherland and Tony Dow (from TV's Leave It To Beaver). One superb sketch is a commercial parody – but unlike most commercial parodies from '70s sketch movies, this one is as edgy as the filmmakers think it is. "Scott Free," a fake ad for a family board game about the JFK assassination, perfectly mimics the production style of TV ads of its time. And it's exactly one minute, unlike sloppy commercial parodies that run three times longer than actual commercials. Bonus points for not calling out the subtle jokes. (They never hit you over the head with details like the flag-covered coffin game-piece.)
---
9. Amazon Women on the Moon (1987) – "Bullshit or Not?"
The semi-sequel to Kentucky Fried Movie contains another conspiracy-themed sketch. "Bullshit Or Not?" attempts to answer the question "what if the Loch Ness Monster was Jack the Ripper?" By 1987, a parody of the 1970s TV series In Search Of seems pretty dated –- so much so that you might wonder if this sketch was cut from Kentucky Fried Movie. But there's so much love that went into this sketch, the dated parody hardly matters. Director Joe Dante gets a terrific comedic turn by character actor Henry Silva and there's a delightful creature design that shaped the low-budget practical Nessie.
---
10. Movie 43 (2013) – "The Catch"
As soon as you saw this one listed here, you were like "Ugh," right? But remember, we're looking at the "most memorable" sketches, not necessarily the funniest. And once you stare into that full-on neck scrotum, you won't soon forget it. This gross-out gag would be pretty haunting, but even more bizarre is that the sketch stars Hugh Jackman and six-time Academy Award nominee Kate Winslet. Kate was not nominated for an Academy Award here, but Movie 43 was nominated for six Razzie awards – and it won three.
---
11. The Groove Tube (1974) – "Safety Sam"
The dialogue in "Safety Sam" isn't shocking, it's good medical advice. What's surprising is that the advice is coming from a penis puppet. In the wide angle, first-time viewers might not realize what they're looking at. But as the camera gets closer, it becomes apparent; those are some real genitals on screen. Groove Tube writer Lane Sarasohn played the part instead of his collaborator Chevy Chase. Ironic, since by all accounts Chevy Chase is a dick!
---
12. The History of the World, Part 1 (1981) – "The Inquisition"
Mel Brooks makes it a point to include at least one musical number in each of his films ("Springtime for Hitler," "I'm Tired," "Puttin' on the Ritz"). Here Brooks stages a Busby Berkeley production number during the darkest exploits of the 15th century. Comedy nerds might protest "Python did it first!" but it's apples and oranges. Not only is the Grand Inquisitor played by one of the chosen people, but there's narration by Orson Welles and a verse by Jackie Mason.
---
13. Coffee and Cigarettes (2003) – "Delirium"
Not every sketch comedy movie is anchored by commercial parodies and R-rated sitcom spoofs. Take Blue in the Face or Jim Jarmusch's Coffee and Cigarettes. The art-house comedy finds humor is relationships and mundane aspects of the human condition. Or in this winning scene, we get a conversation about alternative medicine with Bill Murray and RZA and GZA from the Wu Tang Clan.
---
14. Everything You Ever Wanted to Know About Sex (But Were Afraid to Ask) (1972)  – "What Happens During Ejaculation?"
Another sketch about semen, this time featuring Woody Allen as a neurotic sperm afraid to go into "battle," as it were.  It's one of the definitive Woody scenes, and something to rewatch instead of his latest dreary rehashing of Crimes and Misdemeanors.