10 Mockumentaries That Turn Up the Hilarity to Eleven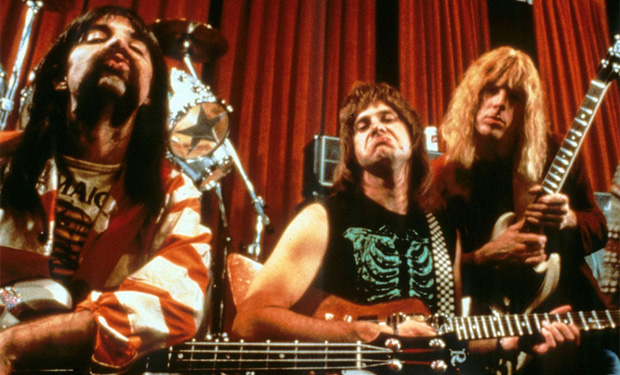 Posted by Brian Steele on
It was only a matter of time before Bill Hader, Seth Meyers and Fred Armisen collaborated on something like Documentary Now!, their new homage to the art of documentary filmmaking. Back in their Saturday Night Live days, the three friends put together a sketch titled "Ian Rubbish and the Bizzaros: History of Punk," parodying the rock docs they grew up loving. With Documentary Now!, they're digging in, and paying tribute to famous docs from Grey Gardens to Nanook of the North.
Mockumentaries, as a form, have been with us for decades, poking fun at politicians, celebrities and regular folks who dream a bit too big.  Here are some of our favorites, the mockumentaries that weren't afraid to turn up the volume (and the laughs) to eleven.
1. Borat: Cultural Learnings Of America For Make Benefit Glorious Nation Of Kazakhstan (2006)
It's hard to remember after years of terrible "My wife!" impressions, but when Borat first exploded into theaters in the fall of 2006, it was a revelation. Edgy and brash, but with a point of view, the surprise hit comedy challenged its audience while still being deliriously funny. Sacha Baron Cohen had made his bones in the mockumentary/news magazine spoof form — most famously on Da Ali G Show, where Borat the character was born — but had struggled to translate his collection of characters to the big screen. Following the fictional feature Ali G Indahouse, which felt like a one note sketch that never ended, Cohen set his hapless Kazakhstani newsman loose in the real world. As a result, the filmmakers were able to explore the highs and lows of American culture while also working in some nude male wrestling. All together now: "Very Niiiiiiice!"
---
2. This Is Spinal Tap (1984)
The big bang of the modern mockumentary, this comedy classic single handedly showed a generation of movie and music fans how it was done. Rob Reiner's film follows the out-of-touch, raucous, and fading heavy metal band Spinal Tap on what would prove to be a fateful tour, sending up both rock-and-roll and the documentaries about the scene. The movie was both over-the-top and spot-on, and more than one fan walked out of the theater believing that Spinal Tap was a real band. While the film opened to middling box office, VHS and TV airings helped it to become one of the biggest cult hits of the '80s. It was even selected by the Library of Congress for preservation by the United States National Film Registry, meaning that when aliens land on the planet a million years from now, they'll still be able to enjoy a rousing performance of "Big Bottom."
---
3. Waiting For Guffman (1997)
Christopher Guest, who played lead guitarist Nigel Tufnel in This Is Spinal Tap, acts as both director and star this time. Gathering many of the performers who made Spinal Tap a hit, this would be the first in a series of groundbreaking and hilarious mockumentaries made under his direction. Here Guest's sights are set on the world of community theater, and the dreamers with more heart than talent who make up their ranks. Probably the funniest of Guest's directorial efforts, which also include stellar entries like Best In Show and A Mighty Wind, this film knew that desperation mixed with delusion is a potent mix for comedy. And it was recently announced that Guest would be helming a new film about mascots for Netflix, perhaps adding another classic to this list.
---
 4. The Office (2001-2003; 2005-2013)
Created by Ricky Gervais and Stephen Merchant for the BBC in 2001, The Office centered around the run-of-the-mill lives of a group of office workers. Vastly more cutting than the majority of sitcoms on the air at the time, it initially struggled to find an audience, before breaking out into an international hit. Known for its dry wit and cringe-worthy comedy, the humor reflected a dark, more adult understand of the struggles of day-to-day life. While the show has since be remade in a variety of countries, including the long-running and great-in-its-own-right NBC hit, the original is still one of the most revolutionary TV comedies ever made.
---
5. Drop Dead Gorgeous (1999)
When you think of Denise Richards, comedy isn't necessarily the first word that comes to mind, but the Wild Things actress is surprisingly stellar in this dark comedy about the world of local beauty pageants. Directed by Michael Patrick Jann of MTV's The State, the movie follows the high stakes and low-down schemes of the girls competing in the Sarah Rose Cosmetics Mount Rose American Teen Princess Pageant. Much like Waiting for Guffman, the filmmakers here know that small town folks with outsized dreams equals comedy gold. An all-star cast, with everyone from Brittany Murphy to Allison Janney to Amy Adams in her film debut, help sell the dark humor and pearly white teeth of the Minnesota pageant world. Another film that didn't hit big out of the gate, but has grown over the years to become a beloved cult classic.
---
6. Zelig (1983)
One of the most underrated comedies in Woody Allen's filmography, this fictional documentary about a mysterious "human chameleon" who randomly appears at famous moments throughout history did the whole "insert a comedic actor into classic photographs and news clips" thing way before Forrest Gump shook hands with Nixon. Mixing archival footage with interviews with authors and experts, Zelig remains influential and one of the strongest films from Allen's post-Annie Hall years. 
---
7. Fear Of A Black Hat (1993)
Following in the footsteps of This Is Spinal Tap, but with a bit more of a political edge, filmmaker and star Rusty Cundieff is the guiding voice behind this ode to the world of early '90s hip-hop. While it comes across as a bit dated today, Cundieff was one of the first filmmakers to take on the world of rap, as well as the cultural reaction to the genre. While the Chris Rock comedy CB4, which covered much of the same ground, came out the year before, Fear Of A Black Hat is considered the more significant (and funnier) of the two. A flop at the time, songs like "Booty Juice" and "F*ck The Security Guards" have helped this mockumentary outlive the era it was mocking.
---
8. Take the Money and Run (1969)
Woody Allen is considered a genius for many reasons, but one has to only look at this movie to have a sense of what a game changer he was. Long before the other films and shows on this list hit it big, Allen was exploring the comedic possibilities of the documentary form. The second film directed by Allen, and the first to use live footage (his debut, What's Up, Tiger Lily used footage from a Japanese spy film and overdubbed it), the film centers around an inept bank robber as he flounders through life. Full of the silly comedy and sight gags that marked much of Allen's early success in film, the big difference here is the documentary style. Truly ahead of his time, this film's humor holds up remarkable well, considering it was made 46 years ago.
---
9. Tanner '88 (1988)
Written by Doonesbury creator Garry Trudeau and directed by Robert Altman, the HBO miniseries Tanner '88 was ahead of its time. Using the mockumentary form, the filmmakers dived into the 1988 Presidential election as it was happening, eliciting cameos from the likes of Bob Dole, Gary Hart (remember him?), Jesse Jackson and Pat Robertson. With an astute understanding of the political landscape, and sharp sense of satire, there has never been anything quite like Tanner, which commented on a political campaign from the inside. Look for a young Cynthia Nixon as the titular candidate's daughter, a role she reprised in the 2004 sequel series Tanner on Tanner.
---
10. What We Do in the Shadows (2014)
Jemaine Clement of Flight of the Conchords fame co-wrote and stars in this spoof doc about a group of vampires who hang out in a New Zealand suburb. A hilarious antidote to our current era of sparkly, super-emo vamps, What We Do in the Shadows earned rave reviews for its fresh take on both the horror and mockumentary genre.