Fred Armisen Started A Charity 5k To Give Kids Freddy Krueger Gloves… Maybe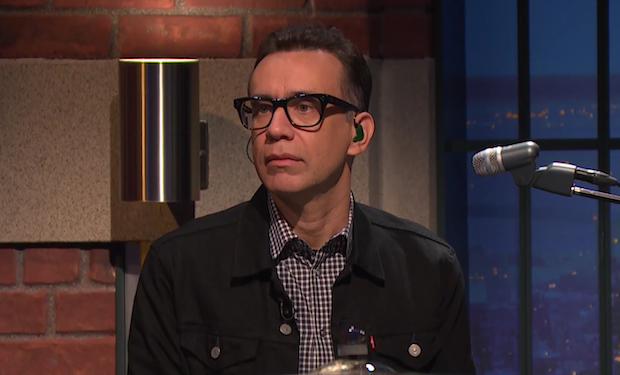 Posted by Derrick Rossignol on
Even if you factor in only what Fred Armisen does for IFC, he's still an extremely busy guy: He created and stars in Portlandia with Carrie Brownstein, and now, along with Bill Hader and Seth Meyers, he also created IFC's new series Documentary Now!, in which he also stars. These projects often take Fred away from his other gig as the bandleader of Late Night with Seth Meyers, so when he manages to return to NBC, he always has stories to tell, although many of them are dubious at best.
For example, on yesterday's Late Night, Seth skeptically asked Fred about the charity 5k race he supposedly started, but Fred confirmed the story to be true: He started a 5k with the goal of providing Freddy Krueger gloves to underprivileged children around the world. So far, the charity has had a successful year, sending out gloves to kids who need them.
We absolutely believe Fred, because he wouldn't lie to us about anything. So kids, check your doorsteps for an unmarked box containing a glove with large blades sticking out of it!