Watch Kristen Wiig and Fred Armisen Show Off Their Australian Accents on Late Night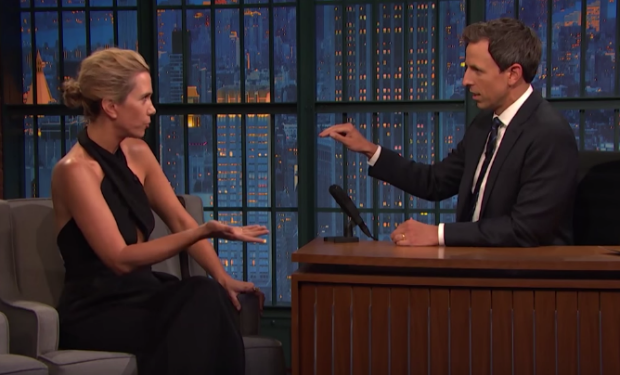 Posted by Derrick Rossignol on
Watch a free full episode of Documentary Now! (no log-in required).
A few things we didn't realize: Late Night With Seth Meyers is syndicated in other countries, so the show needs to be dubbed with localized audio for foreign audiences to understand what's going on. The problem with that, though, is that Kristen Wiig (of The Spoils Before Dying) records the dubs in English, so it seems like something of a redundancy, but she's doing it, so we're going to watch.
Wiig was a guest on yesterday's Late Night and she showed off a few prime examples of her absolutely unnecessary voice-over work. She also had the opportunity to reunite with Fred Armisen, who also worked on the dubs with Wiig. We know these two are capable of great things, but their shaky line-reading… we expect better from them.
Actually, we're starting to think Late Night isn't even aired internationally and this is all a big ruse.
---
Beyond Late Night, Fred and Seth (along with Bill Hader) have also teamed up for IFC's Documentary Now!, which premieres Thurs, Aug 20 at 10p. Check out a brand new clip below:

video player loading
.
.
.