Blue Jean Committee's 'Catalina Breeze' Is Coming Out on Vinyl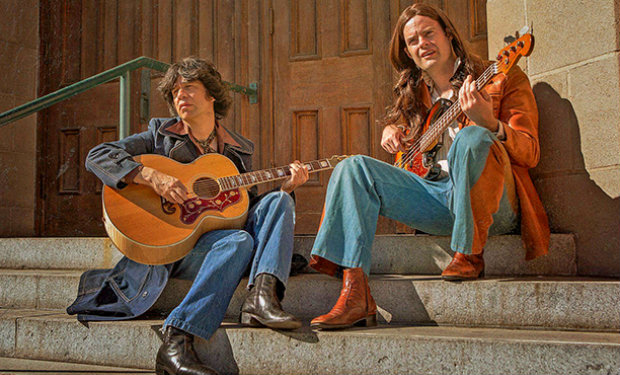 Posted by IFC on
If you're like us, you've been listening to the Blue Jean Committee's "Catalina Breeze" on an endless loop. The '70s soft rock gurus (played by Fred Armisen and Bill Hader on an upcoming episode of Documentary Now!) are back in a big way, and have even recorded a brand-new EP featuring "Catalina Breeze" and more mellow tracks that you can order on 12″ vinyl right now. It's the perfect soundtrack to mellow nights sipping champagne out of a coconut as you set off on the high seas of smooth.
BJC, as they're called by loyal Jean-heads, were one of the best known Loggins & Messina-inspired bands from the late '70s Northampton, Massachusetts music scene. The band eventually hit it big thanks to a unique talk-singing vocal style and sweet, sweet falsetto that will pierce your mind (also glass). Their new EP includes other relaxing ditties like "Massachusetts Afternoon" (which you might have heard on SNL), "Gentle and Soft," "Mama You're a Dancer," "Walking Shoes" and more.
Fred has worked with Drag City in the past to release albums by his other bands like Crisis of Conformity, drummer Jens Hannemann, and SNL's The Bjelland Brothers, where he and Bryan Cranston wanted to know if you got that bottle of sparkling apple juice. We think you'll agree that the boys of Blue Jean Committee are the perfect addition to the Drag City line-up.
Check out BJC performing "Catalina Breeze" during their recent reunion performance on Late Night with Seth Meyers below. And head over to Documentary Now!'s music section to listen to more gentle tunes from the Blue Jean Committee.
Missed the premiere of Documentary Now! and suffering from serious FOMO? Catch the first episode at any of the times below or check it out on demand.
8/22/2015 @ 12:30PM
8/23/2015 @ 11:00PM
8/23/2015 @ 05:30AM
8/30/2015 @ 11:30PM
8/26/15 @ 01:00PM
8/27/15 @ 04:30PM
8/28/15 @ 05:00AM
8/29/15 @ 11:45AM