Fred Armisen and Bill Hader Reunited as Blue Jean Committee For a Smooth Soft Rock Jam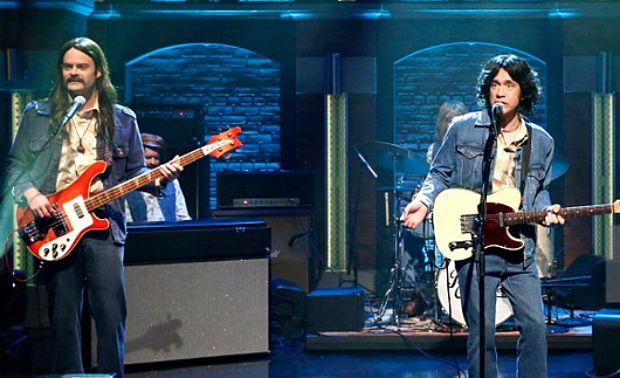 Posted by Melissa Locker on
In the world of '70s sock rock, few bands are mellower than Blue Jean Committee, the group that is featured on an upcoming episode of Documentary Now!. And luckily for us fans, Fred Armisen and Bill Hader reunited on Late Night with Seth Meyers last night to play their band's hit "Catalina Breeze." Is it us, or did it just get really groovy in here?
The band hadn't played together in years (you might remember their appearance on Saturday Night Live), but reunited as the musical act on last night's Late Night by special request of host Seth Meyers. Blue Jean Committee is best known for their hits "Walking Shoes" and, of course, "Catalina Breeze," which features the finest falsetto work of all time. Seriously, that voice can break glass and/or scare puppies.
The Blue Jean Committee's rise and fall will be chronicled on Documentary Now! in a two-part episode when the show's 50th season kicks off on IFC on Thursday, August 20th at 10p. Their story is the classic rock n' roll tale of fame, fighting, falsettos, and making music history through silky soft rock magic.
Before you learn their tragic back story, pull up a champagne-filled coconut and enjoy the view of "Catalina Breeze" below. And check out more music from the Blue Jean Committee here.