12 Bizarre True Stories that Became Must See Documentaries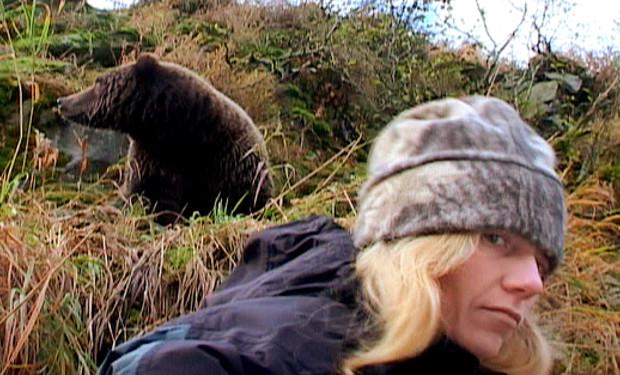 Posted by IFC on
By Bruce Cherry
Documentaries chronicle the entire gamut of human experience, from the stirringly inspirational to the heartbreaking, the tragic, and the hauntingly beautiful. And just like life, some of the best documentaries are just downright weird. To get you ready for the uniquely hilarious documentaries that the 50th season of Documentary Now! has to offer, here are 12 docs that put the "strange" in "stranger than fiction." If you'd like to experience the oddness first hand, head over to the SundanceNow Doc Club and check out some great documentary filmmaking.
12. Crazy Love
It's the same old story — guy meets girl, they fall in love, complications ensue, guy has lye thrown in girl's face permanently blinding her, does 14 years for the crime, gets out, and then they get married and live happily ever after. And you thought you had some dysfunctional relationships! Burt Pugach and Linda Riss give new meaning to the phrase "You crazy kids deserve each other." It's the perfect film for a truly weird date night.
---
11. In the Realms of the Unreal
The longest work of fiction ever written in human history is a 15,000-plus page work by a reclusive janitor in Chicago without friends or family. Henry Darger typed his work on an old manual typewriter alone in his apartment over the course of 60 years. Filmmaker Jessica Yu's documentary tells the story of Darger, a man so socially isolated that only a handful of photos of him exist. The documentary focuses on Darger's work, which was found by his landlord after his death. It was titled The Story of the Vivian Girls, in What is Known as the Realms of the Unreal, of the Glandeco-Angelinnian War Storm, Caused by the Child Slave Rebellion…and the title is the least odd thing about Darger's sprawling and bizarre opus. But this doc uses its haunting strangeness to make people think about the human urge to create.
---
10. Cat Dancers
If this doc were a work of fiction, the pitch would be "Deadly jungle cats being trained by people engaged in a threesome" or simply "Menagerie and Menage-a-trois!" Husband and wife entertainers Ron and Joy Holiday worked exotic jungle cats into their act, and then worked fellow cat-trainer Chuck Lizza into their relationship, and their bedroom. With those kinds of complicated dynamics at work, you know that somebody is going to end up getting hurt—and we're not just talking heartbreak.
---
9. Crumb
You have to figure that the underground cartoonist who gave the world Fritz the Cat would have a few quirky kinks in him. And yes, we learn in this brilliant documentary that as a child, Robert Crumb felt a sexual attraction to Bugs Bunny. What you don't expect is that he seems to be by far the most normal member of his family. Crumb's two brothers, who appear extensively in the film, are even more tormented than he is. Artists in their own right, their respective issues kept them from achieving the sort of fame that their brother Robert did. Filmmaker Terry Zwigoff (Ghost World) spent the nine years it took to make this film in poverty and suffering back pain that left him suicidal. What he got for all that suffering is a finished product that is one of the greatest documentaries ever made.
---
8. Air Guitar Nation
Yes, there is a world championship of Air Guitar. And yes, somebody made a documentary about it. And yes, yes, yes, it ROCKS! Director Alexandra Lipsitz's feature-length doc focuses on the rivalry between aspiring air guitar greats C-Diddy and Bjorn Turoque (say it out loud). They battle it out for the first-ever title of US Air Guitar Champion before heading to the world championships which are held every year in Oulu, Finland. This doc is more funny-strange than disturbing-strange, though that depends on just how disturbing you find the thought of grown people playing air guitar on stage is.
---
7. Grizzly Man
If there is a sub-genre of weird documentaries, then it's documentaries about people being eaten by things they should really leave alone (see Cat Dancing). That genre was pioneered by Werner Herzog's brilliant Grizzly Man. It's about bear aficionado Timothy Treadwell who spent years filming grizzlies in Alaska—way, way too closely. Much of the footage is Treadwell's own, including an audio recording of the bear attack that killed him and his girlfriend. The concept is so harrowing that the film just shows us a shot of someone watching Werner Herzog listening to the recording on headphones—and even that is spine-chilling!
---
6. I Think We're Alone Now
This is the story of not one, but two individuals who have an obsession with '80s teen-pop singer Tiffany. Jeff is a 50-year-old man diagnosed with Asperger's syndrome who has never been in a relationship. Kelly is a 38-year-old "intersex" person from Colorado who claims to have seen a vision of Tiffany while in a coma and now believes that they have a special relationship. Director Sean Donnelly takes us inside the lives of these two people on a journey that is at times amusing, sad, and oddly hopeful. In the end we see them as human beings. Oh, and Tiffany comes off pretty well too.
---
5. Married to the Eiffel Tower
Here we have a documentary about women with a sexual fetish that sounds more like an idea for a digital short on SNL— they form intimate attachments to large objects like the Eiffel Tower or the Golden Gate Bridge. I don't know if you've seen the lines for getting onto the Golden Gate Bridge or going up the Eiffel Tower, but if you're going to have a relationship with them, it's sure not going to be exclusive. People with the condition are called Objectum Sexuals, or OS people. Kudos to the women in the documentary for going public with their condition…though it's kind of hard to hide it when you're fondling the Golden Gate Bridge in front of confused tourists.
---
4. Marwencol
After a brutal beating outside of a bar left him with severe brain damage and very little memory of his prior life, Mark Hogancamp began his recovery in a highly unusual way: He built a 1/6-scale World War II-era Belgian town in his backyard and named it Marwencol. Then he populated it with dolls that represented the people in his life—family, friends, and even the men who attacked him—and he created scenarios to help him try and regain his memory and basic motor skills. He took photos to document his stories, and when they were published, Mark found his self-made therapy being celebrated as art. Like In the Realms of the Unreal, this documentary from Jeff Malmberg explores the intersection of fantasy and reality in art.
---
3. Zoo
OK, there is a second sub-genre of strange documentaries— the ones that deal with things that people have sex with that they probably shouldn't (see Married to the Eiffel Tower). Zoo in this case refers to "zoophile," or someone who likes to have sex with animals. Wait…it gets worse. This particular doc deals with a man who died of peritonitis after his colon was perforated during an, uh, "encounter" with a horse. Try taking that in—the concept, I mean. OK, even though I find it impossible to describe this doc with anything remotely resembling taste, the film itself was praised by reviewers. So it seems that filmmaker Robin Devore made some wise decisions, even if that's more than you can say for the guy the documentary is about.
---
2. Vernon, Florida
An early (1981) film from master documentarian Errol Morris, Vernon, Florida proves that the search for strangeness doesn't have to take you to the wilds of Alaska or the Realms of the Unreal. You can find weirdness in any old town, though it sure doesn't hurt if the town is in Florida. Morris originally went to Vernon because the town had an extremely high rate of people cutting off their own limbs for insurance payouts. Vernon, Florida doesn't even get to that, as Morris allows the oddball characters of the town to ramble on freely, resulting in an affectionate ode to small town eccentricity.
---
1. Grey Gardens
The mother of all strange documentaries, or more accurately, the eccentric mother and kooky daughter of all strange documentaries. Albert and David Maysles landmark 1975 doc tells the story of an elderly mother and grown daughter (relatives of Jackie Kennedy) who are now down and out, living in the decaying family mansion in the Hamptons along with various vermin and raccoons. Big Edie and Little Edie are the iconic strange documentary subjects— nutty, but full of personality and often animated and joyful. That goes a long way toward making a viewer feel better about peeking into an oddball private world like theirs. If there is a Goddess of Strange Documentaries, she looks just like Little Edie in the scene where she does her flag dance to the brass band music.
Missed the premiere of Documentary Now! and suffering from serious FOMO? Catch the first episode at any of the times below or check it out on demand.
8/22/2015 @ 12:30PM
8/23/2015 @ 11:00PM
8/23/2015 @ 05:30AM
8/30/2015 @ 11:30PM
8/26/15 @ 01:00PM
8/27/15 @ 04:30PM
8/28/15 @ 05:00AM
8/29/15 @ 11:45AM
See how Documentary Now's "Sandy Passages" compares to Grey Gardens below.
[brightcove video="4432047410001″ og="false"/]