Nathan Fielder's 5 Best Pranks
Nathan Fielder brings his warped humor to Comedy Bang! Bang! Friday starting at 11P on IFC.
Posted by Brian Steele on
Photo Credit: Abso Lutely Productions
With his series Nathan For You and the viral stunts he's sprung on unsuspecting people, Nathan Fielder has become the new face of so awkward-they're-funny pranks. With Nathan set to stop by the Comedy Bang! Bang! couch this week, we thought we'd highlight five of the most brilliant pranks this master of deadpan has ever pulled. He must have gotten really good grades at one of Canada's top business schools to pull some of these off.
5. Tweet Anarchy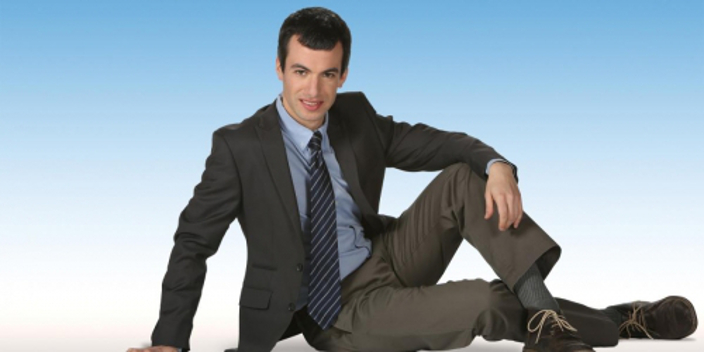 Abso Lutely Productions
Fielder's pranks aren't confined to his show. Having made a name for himself on Comedy Central, he decided a couple of years ago to see what kind of influence he really had on his audience. That's how he ended up sending out a tweet stating, "Experiment: text your parents 'got 2 grams for $40' then right after 'Sorry ignore that txt. Not for you' Then tweet pic of their response," and let the good times roll. And roll they did…
---
4. Price Matching
Fielder is a master at coming up with ridiculously ingenious plans, and then convincing small business owners to go along with them. Here, he decides to use Best Buy's price matching policy against them by offering high-end televisions for $1, then using the price match to gobble up inventory at a bargain basement price. If the plan worked, his mom-and-pop electronics store client could sell the TVs for full value and make a huge profit. The only problem? Fielder needed to keep customers from buying up the $1 TVs for the one day they were available. How did he accomplish this, you may ask? By building a secret room, with only a tiny door, and then putting a live alligator inside of it, to protect the TVs at all cost.
---
3. Dumb Starbucks
In what is easily his post famous prank, Fielder built an exact replica of a Starbucks franchise, but put the word "dumb" in front of everything, thus avoiding any copyright infringement since his "mock-bucks" could be considered a parody. Following the weaving tapestry of confused lawyers, unsatisfied customers and employees who he almost certainly was sexually harassing, this is Fielder at his very best.
---
2. Daddy's Watching
As Fielder explains in this prank, women don't sign up for dating sites because they are pretty sure they are going to get murdered. That's where his dating site, "Daddy's Watching," comes in. The concept is simple: Hire a creepy guy to stalk their date, and make sure the women are always taken care of. If they ever feel threatened, they simply have to yell out, "Daddy, Daddy come over now, save my life, you made a vow." So, nothing could ever go wrong there.
---
1. Gas Station Rebate
When a local gas station hit hard times, Fielder decided to use a rebate to lure customers in. But, considering the station didn't have a dime to spare, he knew he had to make claiming the rebate a little more challenging. The solution? The customers would have to drop it off in person at the top of a mountain. What he didn't expect was that some customers would actually be willing to do this. That's how an overnight scavenger hunt, full of riddles and cathartic campfire conversations, came about. By turning one of his most ridiculous ideas into a heartwarming look at the lengths lonely people will go to connect, this became one of his very best pranks.