10 Things You Didn't Know About the Classic Weird Al Comedy 'UHF'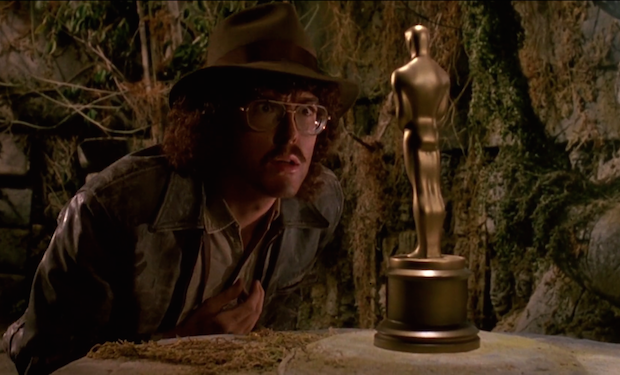 Posted by Mike Schuster on
Able to churn out parody hits like clockwork every few years, shift genres with the flick of the accordion, and possess enough sincerity to circle the globe, "Weird Al" Yankovic is not only enjoyed, but beloved by millions — practically everyone under the age of 40 can legitimately say they grew up loving him and his work.
So it's no surprise that 1989's fun-loving UHF has generated a sizable cult following. Featuring the likes of Michael Richards, Fran Drescher, Kevin McCarthy, Gedde Watanabe, and a slew of oddball characters, the movie is a delightful and endlessly quotable time capsule to the close of 1980s pop culture.
To get you ready for Al's latest appearance on Comedy Bang! Bang!, here are 10 things you may not have known about the hilarious cult comedy UHF.
1. The Spatula City billboard confused motorists for months.
Promoting the world-famous outlet shop where folks can go for all their spatula needs, the Spatula City billboard was erected for the film's production alongside a seldom-traveled highway. Given the undesirable advertising location, the space wasn't repurchased after the production's rental period ran out, leaving the utensil-themed ad up and motorists scratching their heads — and occasionally redirecting their route — for months.
---
2. Emo Philips still reaps residuals for his small role.
Despite his brief screen time as an accident-prone shop teacher, lanky falsetto comedian Emo Philips still receives residual checks from the Screen Actors Guild for his role in UHF. During VH1's Behind the Music episode on Weird Al, Philips showed off a check for a whopping 30 cents — proving what decades of quoting "Is my face red!" is really worth to bottom-liners.
---
3. Sylvester Stallone was set to make a cameo.
Yankovic dons a muscle-bound rubber torso for an extended Rambo fantasy/parody wherein he rents a helicopter from a booth worker to save Stanley Spadowski (Michael Richards). Although played by a non-speaking extra in the film, the booth worker role was set to be played by Rambo himself, Sylvester Stallone, who agreed to appear for the cameo. Scheduling conflicts, unfortunately, prevented Weird Al and Rambo from appearing onscreen together.
---
4. Dire Straits' Mark Knopfler plays guitar in the "Beverly Hillbillies/Money For Nothing" parody song.
Utilizing state-of-the-art (for the time) computer graphics to emulate the look of Dire Straits' "Money for Nothing" video, Yankovic performs a send-up of the song using the Beverly Hillbillies theme song for source material. As a boon to the performance, Dire Straits singer Mark Knopfler agreed to the parody only if he could play the lead guitar lick, giving legitimacy to a sitcom about backwoods hicks striking oil.
---
5. Actor David Bowe was actually hurt by a frying pan wallop to the face.
In the movie, George's business partner and best friend Bob (played by David Bowe) takes a frying pan to the face during the first "Uncle Nutsy's Clubhouse" scene. The stunt required the pan to stop short of his face, but unfortunately for Bowe, it made contact and split his lip. His reaction to the blow is real, and because he never broke character, this take was deemed good enough to be used in the film.
---
6. The odor from the "Wheel of Fish" scene was particularly unpleasant.
Yes, those are actual fish secured to a spinning platform for the "Wheel of Fish" segment, and as you can imagine, the stench emanating from the rotting carcasses fell far short from lilac-scented Febreze. According to Yankovic's UHF DVD commentary, the fish were bought from a local market in the early morning and stayed secured to the wheel as a worker made sure it spun correctly until shooting began in the afternoon. A mixture of hot studio lights, summer weather, and a set that wasn't air-conditioned left a heavy odor in the air that Al described as "ripe."
---
7. The film is dedicated to Trinidad Silva, who played animal "expert" Raul.
As Raul, the animal "expert" that nobody can remember hiring, actor Trinidad Silva showed kids at home that turtles are nature's suction cups and poodles can achieve flight if thrown in just the right way. Tragically, Silva was killed by a drunk driver midway through production. The movie is dedicated to his memory and his character's backstory, as well as a scene where Raul got his comeuppance by a roving band of vengeful poodles, weren't included in the final cut.
---
8. Yankovic didn't want the movie to be called UHF.
Before UHF was released, Yankovic and Orion Pictures butted heads on what the movie should be called. Al wanted The Vidiot, but Orion insisted on UHF, which Yankovic thought would be confusing in light of cable television's rise in popularity. Domestically, the movie was released with Orion's title, but for the overseas market, a compromise was reached: The Vidiot from UHF. Yankovic has gone on record about how much he dislikes both versions of the title.
---
9. Offbeat character actor Crispin Glover was offered a role in the movie.
Named for the inventor of television, the role of studio engineer and mad scientist Philo was offered to that personification of eccentric, Crispin Glover. The actor declined the part and reportedly asked to play the role of used car salesman Crazy Eddie, who's willing to "club a seal to make a better deal." As Glover wasn't deemed right for that particular role, Yankovic and director Jay Levey passed.
---
10. Yankovic inserted a subtle reference to a club he started in high school.
As a noted academic overachiever (he was elected valedictorian of his senior class), Yankovic nevertheless displayed a quirky sense of humor in high school. He and his buddies started a "Volcano Worshipers" club just to get an extra picture of themselves in the yearbook. The actor gave a nod to the club as an addition to the TV lineup with the "Volcano Worshipers Hour".