Watch Matt Besser as Bjork Sing an Ode to a Ladder on Comedy Bang! Bang!
There's Umlaut to Love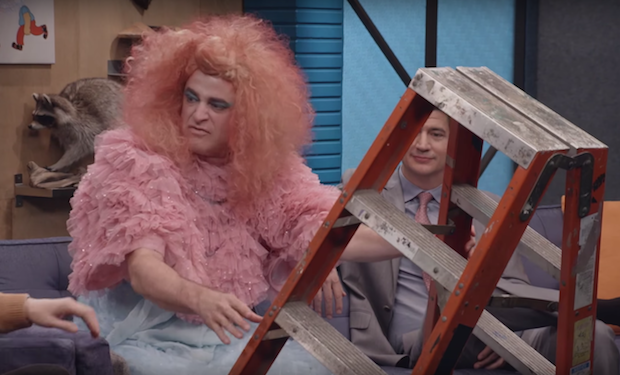 Posted by Mike Schuster on
Singer, actress, and professional Icelandic eccentric Björk Guðmundsdóttir has made a umlaut-accented name for herself for being a unique voice in music and wardrobe — long before Lady Gaga wore that meat dress. As such, she has a discerning eye for the boring and banal, which she unfortunately directed at Kid Cudi on last night's Comedy Bang! Bang!.
Looking quite a bit like Matt Besser of the Upright Citizens Brigade, she poo-pooed Cudi's attempt at a Björk-ian backing track and provided an original tune with lyrics courtesy of an on-set ladder safety guide.
Watch garishly dressed, Matt Besser-lookin' Björk atonally croon the importance of non-slip shoes below.
[brightcove video="4419213287001″ og="false"/]