Seth Meyers Ditched The Monologue… Probably After Watching Comedy Bang! Bang!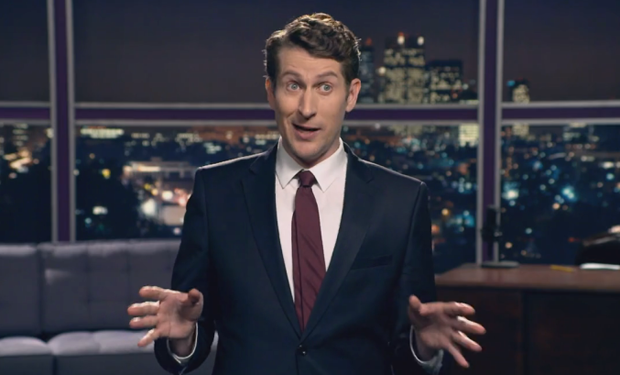 Posted by Melissa Locker on
Fans of the Late Show (read: everyone) may have noticed a slight change in the show: Seth Meyers no longer does an opening monologue. While those monologues have become hallmarks of the genre with everyone from Johnny Carson to David Letterman to Jimmy Fallon using the opening moments of their respective shows to perform a pint-sized stand-up routine, there's no Late Night Law that requires them and it's fun to see Seth make the switch.
Discussing the change with the New York Times he said, "I've always, obviously, been comfortable behind a desk. It seemed like it was time to give it a shot." As Paste points out, Seth got his job at Late Night because of his skill behind the Weekend Update desk on Saturday Night Live. Letting him skip the monologue, lets his talent shine.
The clever minds over at Paste also figured out where Seth might have gotten the idea: Comedy Bang! Bang!. A few years ago, when How I Met Your Mother and The Avengers star Cobie Smulders stopped by the show for its "pilot episode," Scott Aukerman went all out to impress her with his "brand new" talk show. To give Comedy Bang! Bang! an authentic late night feel, Scott even performed an opening monologue worthy of any late night talk show, saying things like, "Lindsay Lohan is in the news again! Apparently she's in trouble with the law! I don't know, she's been punished more severely than the seat of Kim Kardashian's 501s!" By the end of the episode, Cobie had left and Scott had given up on the late-night format and done away with the opening monologue to give us the Comedy Bang! Bang! we know and love.
Watch the clip now and you'll see that CBB and Late Night are both better without the monologue:
video player loading
.
.
.
Comedy Bang! Bang! airs on IFC on Thursdays at 10:30p